There are 850,000 people living with dementia in the UK today.
This number is set to rise in the coming years. Tending to the needs of this growing population is the focus of the UK's Alzheimer's Society.
The most pressing issue facing the organization is accessibility of digital services to people affected with dementia. Due to the nature of the disease, resources have to be made radically easy to access, follow and navigate. Solving this problem for an organization founded in the late 70s meant major changes and a new perspective.
This week, HealthRedesigned sat down with two ushers of this evolution, senior digital manager Imogen Levy and UX researcher John Dickens, to break down exactly how these changes are occurring and their importance as the charity looks to the future.
First off, can you explain what Alzheimer's Society is all about?
Imogen: Alzheimer's Society campaigns for change, funds research to find a cure and supports people living with dementia today. We're a national charity and one of the largest in the UK working in England, Wales and Northern Ireland. The society employs 10,000 workers and enlists another 10,000 volunteers on top of that nationwide.
What role does digital play in the charity?
Imogen: The digital innovation aspect of Alzheimer's Society is split into two main areas: digital engagement and digital experience. Digital engagement involves utilizing different channels for campaign management for campaign engagement. Digital experience covers everything from website development to finding ways to make fundraising more effective and directly supporting people with dementia through our digital channels and technology.
How does your role fit into this?
Imogen: When I first started at Alzheimer's Society we didn't have an experience team. My role as senior digital manager was to create the content and experience team from scratch. I was responsible for bringing the user experience roles into the organisation.
My agenda from the beginning was always to push a user-centered approach to digital and non-digital projects. People saw the value of this approach through what we were doing in the digital realm and so we were able to expand. The enthusiasm within the charity to support this initiative allowed our team to grow from 5 to 18 people.
Why is the demand for user-centered experience so high within the Alzheimer's Society?
Imogen: When I signed on, the Alzheimer's society was in the midst of creating a new five year strategy. We wanted to emphasize putting people at the heart of the organisation and to coevolve with our audience as they are the core of everything we do. To be able to react to their needs efficiently and shape our ambitions around them is our primary goal in this strategy. A user-centered experience was the natural approach to achieving this.
For example, the website had been stagnant for about eight years and was crying out for a major overhaul. An excellent opportunity existed there for me to restructure the site architecture to favour a user-centered experience. The site went from being an archive for the organization to a service for our community.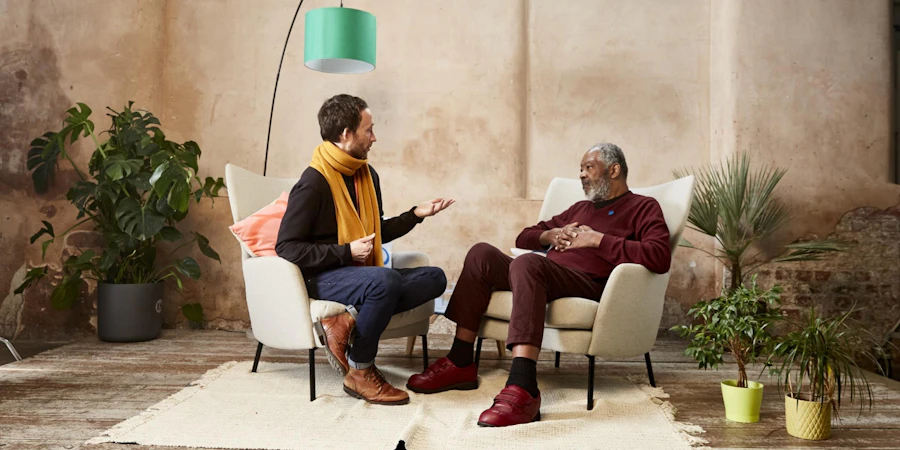 When building user-centered experiences, how do you take into account all the people you are going to serve?
John: We provide a huge amount of services to people up and down the country. One of the services is the website itself. People use our website on a daily basis to find crucial information about the disease and its impact on their lives.
As an example of catering for people with dementia, we understand that people with dementia need to know where they are, where they've come from and how to navigate to a new place. As a result, we take wayfinding tools into account perhaps more than other charities because of the demographic we serve, and we always make sure we test everything we put in place on actual users with dementia as well as their carers.
Imogen: Our main approach to design is not only the testing period of our products but also engagement through the entire process. We make sure to include the people we serve in every step of design.
Is there a specific example you can share of how your making things more user-focused?
Imogen: We often put together workshops that work with people affected by dementia. These workshops are open to the public and input by attendees is strongly encouraged.
Workshops give us the opportunity to hear about people's experiences firsthand. The feedback is a fundamental component to what we do. They also allow us to witness engagement from attendees with our activities in real time.
John: Here is an example: recruiting users, particularly from the population affected by dementia, has long been a challenge. We had to find a tool that we know would work well. Ethnio, a pop-up user intercepter is a tool we found to be successful thanks to these workshops. Now we know it's a tool that can really reach a huge amount of people when used correctly.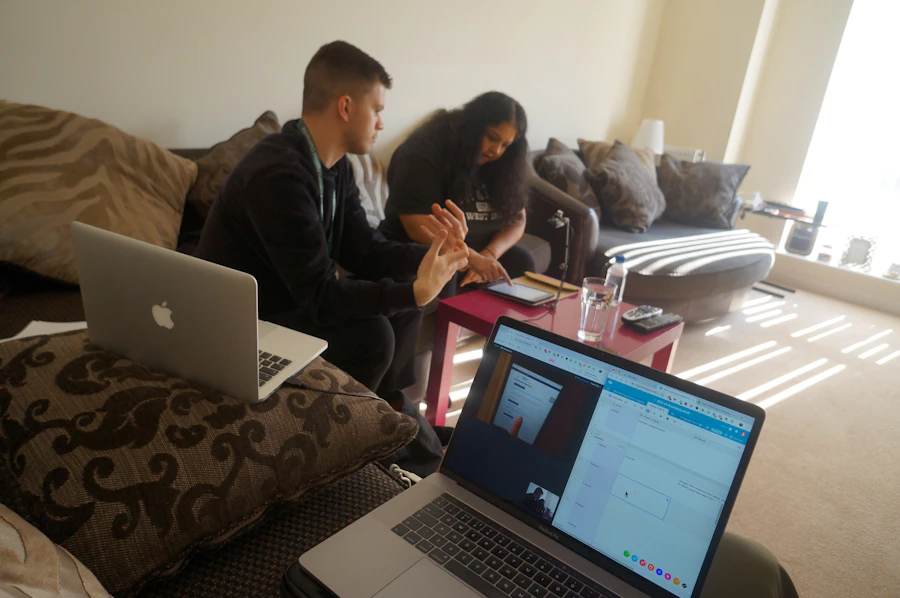 How has this design approach changed the Alzheimer's Society overall?
John: One major change has been a broader spread of information into the communities we service. Dementia doesn't just affect the person diagnosed, instead it impacts whole families and communities. We are taking this into account now going forward, making sure our content is accessible to a variety of audiences.
Imogen: This means spreading information through various ports of entry as well. We have to optimize for all devices so the information is easy to access regardless of where it is being accessed from. The devices have to be quick, they've got to be easy to use and they've got to be tailored for whatever situation is bringing users to our resources.
How have you changed the way you design products to be more experience driven?
John: Our prototypes always begin with our users in mind. We started to abandon the old laboratory setting for designing our services in favour of visiting people in their homes, going to dementia support cafes and community events. We're trying to bring these products into the context of how they will be used. Navigating the routines of these people and seeing exactly how our products fit into that gives us major insight. On top of in-person user testing, we also began experimenting with design sprints.
What challenges did you face running design sprints within the organisation?
John: Sprints are commonplace now in the design sector but we'd never worked in this format at Alzheimer's Society before. So really in a lot of ways it was an experiment. It's such a fast paced process, we were thinking to ourselves - can we pull it off? Will it work? We found at the end of the sprint everything came together really well - and in true UX research fashion this was backed up by a short survey we sent to members of the sprint afterwards, which got some positive responses!
We knew in advance that user-testing would be a particular obstacle when trying to implement this process but we managed to work around this by using a tool called PingPong to help recruit users very quickly. Even with the short time frame, we're still focused on making sure our design process user-centered. What started as a major experiment for a large organization ended up yielding some great results.
Deep dive into John's design sprint process to learn more: Part 1 and Part 2.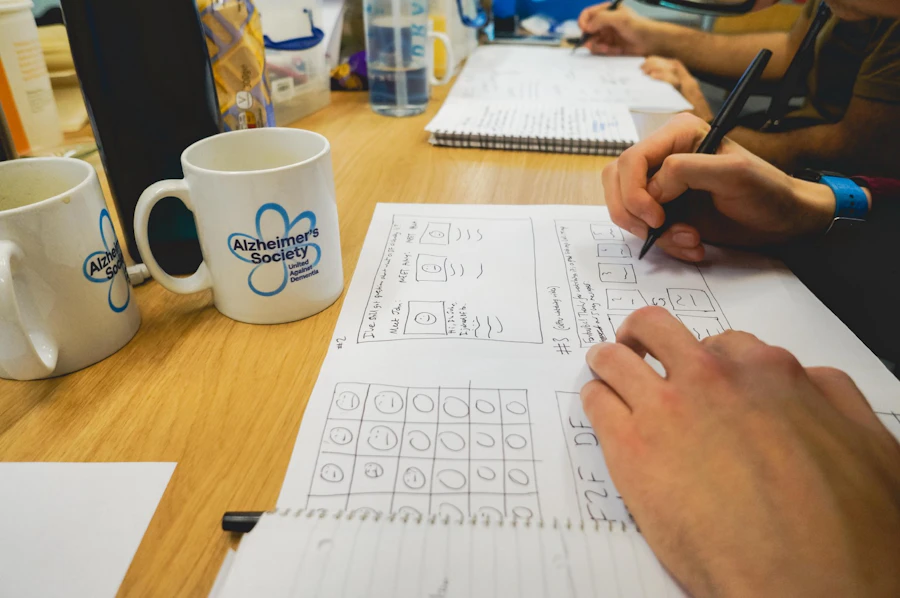 How were you able to get stakeholders excited about all of this change taking place in the Alzheimer's Society?
Imogen: Engagement between both the teams implementing these changes and the stakeholders is key. The communication between everyone in the Alzheimer's society is what allowed for these sorts of changes to take place naturally.
Having faith in our team is another big thing. I let the guys go crazy with the sprint and I had total faith that it was going to be a success. This paired with feedback provided by both the digital team and the stakeholders means the effort to change is wholly collaborative.
What advice would you have for people looking to introduce innovative processes into their organizations?
Imogen: You've got to be enthusiastic about what you do how you approach projects. You've got to believe in it. You've got to be passionate about it. That's first and foremost.
Be confident and bring people in at every opportunity and be as open as you can be with the process and the journey that you are taking people on. The people you serve, they will tell the story for you.
John: It's much more effective than just giving somebody a report or a presentation. When stakeholders are observing users live testing a product and they see right there and then what people are saying about the content on our website, it's so powerful to them.