In designing and building better cities, shouldn't we involve the most important stakeholder—the people who live in them?
Manchester is becoming a city that values the opinions of its citizens to co-design a smarter and better-connected city. From businesses and jobs to better healthcare and transport, the CityVerve project in Manchester aims to engage and empower citizens and eventually create a blueprint for smart cities worldwide.
As one of the main drivers of CityVerve, FutureEverything leads three areas of the project: human-centred design, citizen engagement, and culture and public realm. Starting out as an internationally acclaimed festival that began in Manchester in 1995, FutureEverything has become so much more than a conference about technology over the past 22 years—it's a cultural facilitator at the intersection of art, design, science and digital.
In this episode of HealthRedesigned, we speak to Mahnaz Yusaf, a Service Designer and Feimatta Conteh, a Program Manager from FutureEverything about the health innovation projects that they've been driving recently through the CityVerve project.
Driving citizen engagement
. . .
What exactly is FutureEverything?
Feimatta: At the moment, we're an organisation that's sort of in transition. We've long been renowned for delivering an annual festival which looks at ways we might live in the future and explore technologies, but we're actually delivering more year-round projects right now. We've also developed a participatory service design team that Mahnaz is part of.
We're at the intersection of art, design, digital and science. We facilitate the interactions of those things and work towards trying to build citizen engagement in different areas.
When FutureEverything started, it was called FutureSonic and it was very much focused around music, and it evolved from there and kept changing. It's now moved towards the development of participatory design, engagement and smart city projects.
Mahnaz: I see it as we're quite multifaceted in terms of the projects that we do. Also in terms of the CityVerve project—it's starting conversations with the community. It's trying to get the voice of the community in Manchester and use that to shape how some of the initiatives within CityVerve are developing. We've got quite a few other projects that we work on and they're all quite diverse in terms of delivery and purpose.
Feimatta: It's fundamentally about driving citizen engagement with digital cultures and giving people the tools to understand technology and digital culture.
Mahnaz: I like to call it 'creating conversations around change' because there are so many changes happening within our society through technology, digital, whichever. How do you engage with people and get them to learn about some of these changes and not just learn about them, but participate in how those developments are happening?
A smart city demonstrator
. . .
Let's get to CityVerve. What is it?
Feimatta: It's a consortium that's made up of 21 partners across the city from very small tech firms to universities and led by the Manchester City Council. There are four themes: transportation, health and social care, energy and environment, and culture and public realm.
FutureEverything leads the culture and public realm sphere, drawing on our background and world-renowned status of being an arts organisation. We also lead on citizen engagement, picking up on our skills around bringing people into participatory design discussions. Within the themes of CityVerve, we've developed use cases in areas where the application of the Internet of things (IoT) technology could have a real impact on the lives of people in Manchester, whether it's citizens or visitors.
Mahnaz: So it might be a city concierge app that uses augmented reality to help visitors and residents of Manchester discover new places and new things to do. It might be a health and workout app that uses data to prompt people to become more healthy and active. Each one of these use cases is a specific initiative that uses IoT to help people do things a bit better and differently in Manchester.
Smarter healthcare solutions
. . .
Could you tell us about the CityVerve projects that focus on health and social care?
Mahnaz: There are three projects within the health and wellbeing theme that tackle things like social isolation, health and some health difficulties. One of these is Bee Active, a health and workout mobile app that encourages people to become more active. It uses data sensors throughout the Oxford Road Corridor and prompts people to take the healthier route to work or maybe for a lunchtime walk.
We're currently at the research stage for this app where we're understanding who we're aiming it towards. We're also determining what their needs are in terms of being healthy and how those needs are shaped by their surroundings, geography, colleagues, friends, and the communities they're part of. The University of Manchester has created the first version of the app and we've just completed the first phase of user testing. It's using the local community to create better experiences in terms of health but also using their voice in how it's shaped.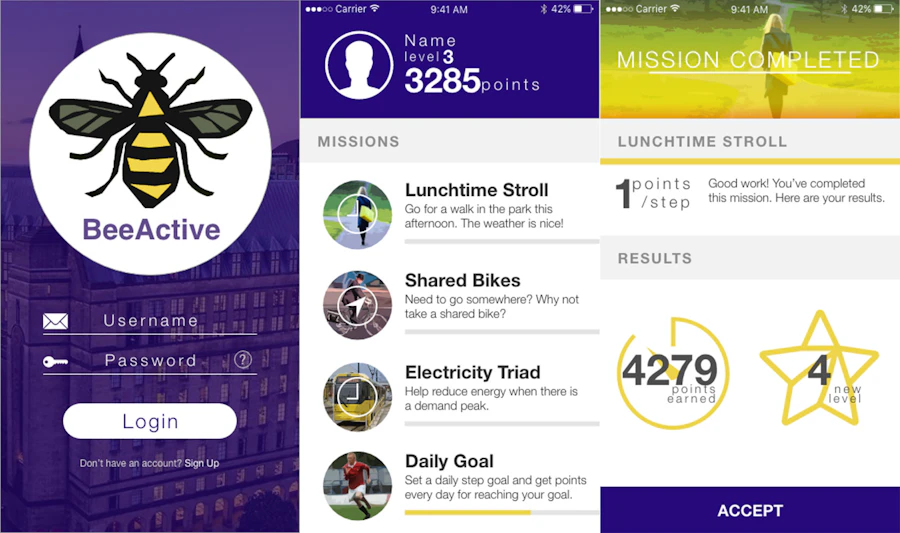 Another initiative is a smart inhaler app for those who suffer from chronic obstructive pulmonary disease (COPD) and is using data to help them understand the changes in their activities. So how often are they using the inhaler? Is there a sharp increase or decrease in their usage? It's trying to understand how that data can be visualised through mobile or web technology to improve people's experiences of having this experience.
Feimatta: Quite a lot of people who suffer from COPD are elderly, so people who aren't really familiar with technology or necessarily comfortable with the idea of having sensors in their house. We participated in a really interesting user research workshop where these three sufferers of COPD were saying how they're not comfortable using smartphones and how do they use that technology?
It's about gathering those insights and feeding them into the team who are designing the app so they can really understand how to make the technology in a way that's going to be user-friendly for people who aren't overly comfortable with using technology.
Gaining trust
. . .
When involving people who aren't as tech-savvy, how do you make them feel like they can trust you throughout this process?
Mahnaz: There's always a great response when you're very transparent and open about your approach and what you're trying to create. In terms of sharing personal insights, how open as a participant am I going to be in giving you real stories that I experience? But there's also trust around apps and technology.
We try to start conversations in different ways. One is through play and activities, not just creating a Q & A kind of environment. We create engaging experiences and through them, we're able to gather real insights that people want to share. Often times, those are insights that we might not want to hear, but it's really relevant to how you develop a product or service that's going to be used by other people.
Could you describe what a workshop is like for one of these projects like the smart inhalers or Bee Active?
Mahnaz: We've had workshops where we've invited people to have a general discussion around how they feel about technology and we've had lots of interesting conversations. We then unpick a lot of the insights. Sometimes it's reading between the lines and then using that piece of insight and going forward with that conversation.
One of the workshops for Bee Active was a workout workshop where we had a facilitator carry out workout activities. It was like an aerobics class and with a little bit of yoga. There was a bit of discussion and a small treasure hunt involved as well. Through those activities, we tried to gather people's feedback on their lifestyles and their approach to health and keeping active by understanding their motivations behind it. So it's really immersive and it was through a combination of discussion and activity that we were able to have those conversations and gather that feedback for the Bee Active team.
Maintaining citizen engagement
. . .
The deadline to deliver CityVerve is coming up in June. Do you feel like you've reached the goals you set for yourselves two years ago?
Feimatta: I feel like as an organisation, we've definitely developed in the time that we've been working on the CityVerve project. We've been building really good service offerings that we know we can go out and collaborate with more people on in terms of participatory design and engagement practices.
Mahnaz: There are also lots of different conversations around trust that happen within the development of a project like this and one of the things I'm really proud of with the team here at FutureEverything is creating a tool through which we can measure success but from the perspective of the citizen.
So we can ask citizens: What change would you like to see within a project like this? And then we can hold ourselves accountable against that, dependending on what their preferred changes are—known as community KPIs.
Feimatta: It's available for download from our website—a report that documents the process around developing community KPIs in smart city projects.
Where do you think smart cities are headed next? Or more specifically what do you think is next for Manchester?
Mahnaz: I'd like to see it continue this conversation with its citizens to include them in new developments that are happening in the city. In terms of a smart city, I think we're at this stage where we're on the cusp of things going live and we're going to see how it goes. But in terms of the future, I'd like it to be a city that listens to its citizens or continues to do so.
Feimatta: I think that's very much on the cards for Manchester. We've had a couple of meetings with the Manchester City Council and they have a strategy for 2025 called Our Manchester. It's around how the city council can facilitate conversations between citizens and service providers.
In terms of smart cities more broadly, I hope there's going to be more things like CityVerve and fewer things like Masdar where it's just a whole load of technology that's implemented somewhere with no kind of engagement. There's been a definite understanding that unless people want to use technology, they won't. You can be as smart as you'd like, but it's just going to be a box on the street that nobody's interacting with, for example. So you really need to include engaging people in the design of things.