For many, meditation may appear to have a lot of mysticism around it.
This is the assumption that Headspace is trying to help dispel by making the practice more approachable and accessible for everyone.
Headspace is an app that teaches guided meditation by delivering meditation sessions on-demand. The sessions are presented in a down-to-earth way, accompanied by light-hearted characters and friendly branding. By encouraging people to cultivate awareness and compassion, Headspace hopes to help people live more mindfully.
Joining us on HealthRedesigned is Adam Diehl, the Lead Product Designer at Headspace. He tells us about the company's mission and the reasons for some of the design decisions behind the app that's been downloaded by more than 18 million people in over 200 countries.
Making the world healthier & happier
Headspace's mission is to improve the health and happiness of the world. Could you tell us more?
We're really aware that this is extremely ambitious and relatively broad. It's also somewhat intentional so we can find multiple avenues to connect with people, improve their mental wellness and potentially, their physical wellness too. But it really starts with changing behavior and changing perspective.
If you can be aware of how you're feeling both physically and emotionally, mentally, you start to actually empathize and become aware of those around you as well as the environment around you. You start to appreciate those things.
If I meditate this morning and it makes me a little bit more calm and aware of my actions, maybe I don't honk at that person on the freeway. They then don't lash out at their co-worker and that person doesn't get frustrated with their spouse. We see it as change in the world happening on an individual level but also as domino-effect.
From monk to app founder
We're really fascinated by Andy Puddicombe, who's the voice behind Headspace's guided meditations and has trained as a Buddhist monk before bringing this learning to a digital product. Could you tell us more about his journey?
In his early 20s, Andy was going through some hard times. He was studying at a university in London when he had an epiphany and made a decision to move to Tibet and became a monk for 10 years. When he returned to London, he realized he could apply some of the techniques that he learned in the monastery to a modern-day lifestyle.
Around that time, Rich Pierson, the other co-founder, was going through a burnout with work and introduced himself to Andy. They started talking and worked together on organising events but eventually realized the best way to reach people is through the digital side of things. Neither of them had direct experience in app design and development. But Rich came from an advertising and branding background and brought that knowledge to the company to help it take off. This was seven years ago.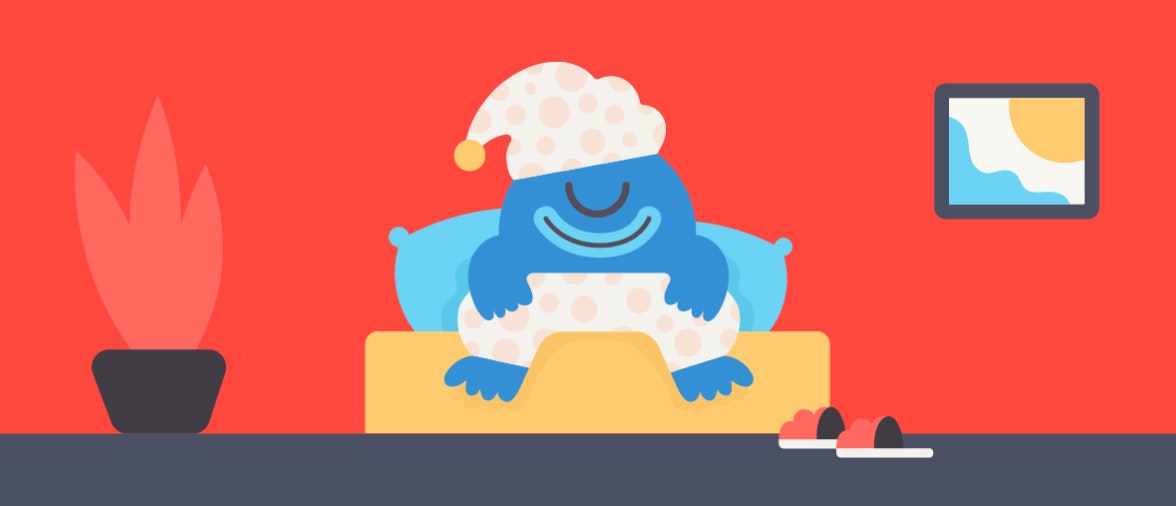 Mindful design process
What was the process behind designing the colourful characters and color palettes seen in the app?
There has been an evolution of the style, but the use of characters and animations was something that the team decided really early on to really invest in and associate the brand with. Since then, rather than overhauling the brand altogether, we had a redesign that launched in June. We thought, "How can we evolve it? How can we make it grow a little bit?" We expanded the color palette and introduced a little bit more logic into the color system. We thought about evolving the character styles and putting some guidelines around that so we can scale. There hasn't really been any drastic changes from the beginning. It goes with the saying, "If it's not broken, don't fix it."
The app has gone from being structured around a timeline, where users unlock different levels of meditation, to having their pick of different packs. What was the decision behind this modification?
Andy made the decision not to restrict users to doing only one pack or one topic at a time because the timeline as a core interaction model didn't work as well. We got feedback from users that they'd like to meditate to improve stress or focus in the morning and improve on sleep at night, for example.
We're working on a recommendation system that ultimately allows choice. Everybody's unique and their life might involve more than one emotion at a time. So we've created an open interaction model where you can choose different things based on either a topic or how much time you have. But we still have that journey or timeline to help you reflect and see how far you've come.
Cultivating mindfulness within the company
Do you do any group meditation sessions at Headspace?
Yes, we do. Everyday there are optional group meditations at 10:00AM and 3:00PM. It doesn't count towards your performance and we try to block meetings from happening at those times. Some people have their own personal practice and it's perfectly fine if they don't join. But we have a big communal space where employees can show up at. In the mornings, it's usually 10-minute guided meditation sessions. In the afternoons, it's generally more topical or pack-based. These are good opportunities to interconnect with others and talk to coworkers afterwards about how they're doing and how their practice is going. It's a great way to break up the work day and take a breather.
This goes back to that self-awareness and desire for self-growth. People are more comfortable at Headspace being vulnerable in talking about their stress or how they're going through a situation. There's this sense of, "Hey, I'm on that way too. I go through these things too." There's openness to these emotions that we encounter because that's the product we're working on.
Growing the community
Are there any new features or projects in the works for Headspace?
We want to continue optimizing the meditation experience and make sure that we're surfacing content that's really relevant. I'm personally interested in recommendations and personalization and I think we're going to turn the dial up on that. But another big thing that we haven't really done well, or done at all, is community.
If you talk to Andy, he would look back at his life at the monastery. One of the three pillars of life there is community. You have the teacher, you have the teachings, and you have the community. It creates a sense of essential validation and accountability. That's another thing that I'm really excited about that we have coming up.
Are there currently any community initiatives that people can get involved with?
If you're one of those people who's not quite sure about meditation and what it can do for you, I really encourage you to check out our blog, The Orange Dot. It's a nice mix of editorial and perspective pieces in addition to science studies and validation behind the physiology of the brand.
We also just launched a podcast, called The Packcast, where we review different Headspace packs. If you're listening to this, you might like that as well.
Finding the right balance
What's your biggest learning as a designer at Headspace?
The fact that we're designing an app for engagement and want you to engage with our product because we genuinely think it'll make you a healthier and happier person. But at the same time, we want you to get away from technology and enjoy the world around you. That philosophical tension is the biggest challenge. It's something that I encountered on day one at Headspace and is something that we still talk about today.
Connect with Headspace on: