Pacemakers and implanted defibrillators have helped people with chronic heart disease to survive and lead fairly normal lives. But what if things could be taken a step further to elevate patient care?
Thanks to Implicity, a French startup, healthcare professionals can now remotely monitor cardiac-connected devices that have been implanted in patients. Using artificial intelligence to analyze data from high-risk patients, Implicity hopes to improve the lives of people, starting with those who have chronic heart disease.
In this episode of HealthRedesigned, we speak with Louis Pinot, Co-founder and Head of Product at Implicity.
Louis tells us why big data is providing a huge opportunity for better healthcare and how they're trying to build better digitala tools for physicians. He also tells us about the benefits of monitoring these devices and how this new cloud-based platform can ultimately improve healthcare.
Monitoring cardiac-connected devices
. . .
Can you tell us a little bit more about your mission?
We want to leverage artificial intelligence and connected medical devices to provide better healthcare. We know that big data can offer huge opportunities to provide better care to people, and there are two sources of it, which are genomics and connected medical devices—we're trying to attack from that angle to build better tools for physicians.
Which chronic disease are you tackling first?
Our initial product connects with pacemakers and implanted defibrillators. These are devices that are implanted in the heart of the patient to allow it to beat at a regular pace, and also revive the patient in case they have a heart attack.
We chose this because it's probably the most mature vertical in terms of connected medical devices for various reasons. In terms of the sheer number of devices, about 1% of the population in rich countries have a pacemaker or a defibrillator. Today, they are all connected, meaning that they've been able to transmit data back to a server and to the physician.
The second aspect is that we now have a lot of clinical proof that patients with these type of remotely-monitored devices have a much lower mortality rate and much better quality of life overall. They also have to go through fewer surgery interventions.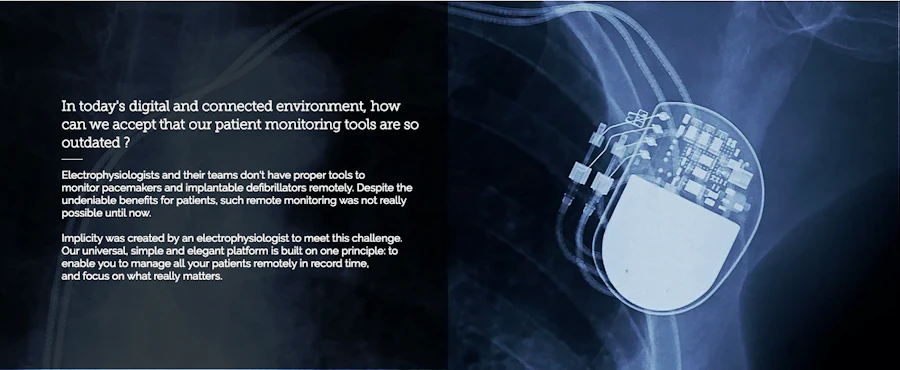 Leveraging artificial intelligence
. . .
How is Implicity using artificial intelligence?
The technology we developed uses both data from the patient's medical record and from the connected device to identify patients that are at risk and, for instance, should have a change of medication, a follow-up appointment or go through surgery.
The problem with connected medical devices and what physicians are struggling with is the sheer amount of data that they have to analyze. That's something that's completely new. They didn't have this massive amount of data coming back to them before. In our opinion, this is really where tools are lacking to help them and where we have to leverage artificial intelligence.
Implicity's beginning
. . .
How did the idea for Implicity evolve?
Our CEO and one of my co-founders, Arnaud, is an electrophysiologist and a cardiologist who specializes in treating patients with these type of devices.
Arnaud started off with this idea that there was no proper tool to track pacemakers and defibrillators. Then, he did a PhD in artificial intelligence (AI) to develop a technology to solve that problem. His initial startup idea was to use the technology he developed for any type of medical device.
He started off working with David, our CTO, on that concept of providing AI as a service for connected medical devices and then circled back to the original idea because the market wasn't mature enough. He picked the initial niche—pacemakers and defibrillators—because that's where we had the most chance of succeeding.
Working with physicians to shape the product
. . .
What were the main concerns of physicians or cardiologists when you were talking to them about the product?
On the one hand, physicians are desperate for modern software tools to make their life easier and empower them in their work. On the other hand, there have been so many people trying to sell them crappy software for the past 20 years that they're very sceptical.
In two seconds, a physician will form a much stronger opinion than the average user about your platform. This is something that I would not have foreseen in the beginning and that Arnaud was careful enough to warn us about. I think that was very important because it meant that we developed the initial prototype and mock-ups of the platform with physician friends of his.
I came from the startup scene and in the beginning, I was really pushing to talk to more physicians and nurses. But he held us back and restricted testing to his circle of friends—clinicians and some close advisers. I can say this now because we actually had our commercial launch last week and it was superb—in hindsight he was right. If he hadn't been a clinician himself, I think we might have made that mistake.
Once they show interest in using the platform, how do you get them to switch from one system to another?
Getting people to switch to your product is hard, but if you manage to do it, you'll keep them as users for a very long time. Our approach is to be a full service. Even if it takes us hours to manually import all the reports from patients and their medical reports in their platform, we will do it for our users because otherwise, they're not going to switch. I think there's a lot of value in carrying as much of the weight of transition from your users as possible.
Managing more diseases in the future
. . .
Are there other chronic diseases in Implicity's roadmap for the future?
From a business strategy standpoint, our main targets are in the field of cardiovascular diseases in general because that's our initial field. Once we onboard cardiologists on the platform for our patients with pacemakers, then it's easier to provide them with additional products and features for other diseases that their patients have. Heart failure is the main one, then there's hypertension.
It's interesting because, statistically, 1.5 billion people are expected to suffer from hypertension. The current device that tracks that is a blood pressure monitor. It's a pretty basic device, but today, you only use one when you see your general physician. Our bet is that brands like Withings will come up with connected blood pressure monitor that people can use in their homes.
One study estimates that there's going to be more than 350 million of these devices on the market within the next 10 years. This is really one of the next frontiers that we'd like to get involved in. There are also a few others like using pacemakers to treat Parkinson's disease and mental illnesses by stimulating the nervous systems. This is also something that we're considering—there's really a lot of opportunities.