Being able to easily share information leads to better patient outcomes.
Thanks to MedPics, healthcare professionals in France are able to share interesting day-to-day clinical cases that they come across and discuss them with colleagues in the medical community. The MedPics app is the first photo-sharing application for French healthcare professionals and is currently used by over 30,000 users including doctors, nurses, assistants and medical students in France,
In this episode of HealthRedesigned, we chat with Ali Namdari who is a Co-founder and Product Designer at MedPics. He tells us how the idea for MedPics came about, the hurdles they faced along the way while designing the app and how they're planning to use the app as a digital tool for education.
A need for doctors to collaborate
. . .
Why was MedPics created?
My friend's sister is a doctor in an emergency room. In hospital wards, people just walk in with a cut on their arm for example, and she was seeing very interesting cases every day. She was taking pictures, sharing it with her colleagues and people were replying, but she always ended up with a really long feed of emails. If anyone was jumping in the conversation, they had to go over all the emails–not very handy!
She wondered about an easier way of doing this and spoke to her brother, Nordine, about it, who's a good friend of mine and a product manager. They decided to come up with a social network for doctors at first. Nordine called me and said, "We would love to build the new LinkedIn for doctors where they can share everything, chat, organize meetings and more."
We sat down and quickly realized that it would involve way too many features and agreed to strip it down. After several months, we nailed an MVP which was like an Instagram for doctors, where users could take a picture and share it on their feed for everyone else to see and comment on. That was the very first version of MedPics and how it started.
Designing with remote collaboration
. . .
In terms of design, what are some of the challenges that you faced?
The very first challenge was working together remotely and testing the app remotely. The users were doctors and nurses located in France, while I was based in London. That was very hard. At first, I was like, "I'm just going to make assumptions and do everything to kickstart the project."
However, as soon as we wanted to actually make it better for our users, we had to make clickable prototypes and give it to our co-founder, who's still working in a hospital, to show people and get feedback. That was quite challenging.
This was also the first time I was designing for users who were completely different from me. They had different expectations and different ways of using tools. At work, I'm always almost able to relate to the user, but this was completely different as it was more of a work tool for professionals who are much smarter and technical.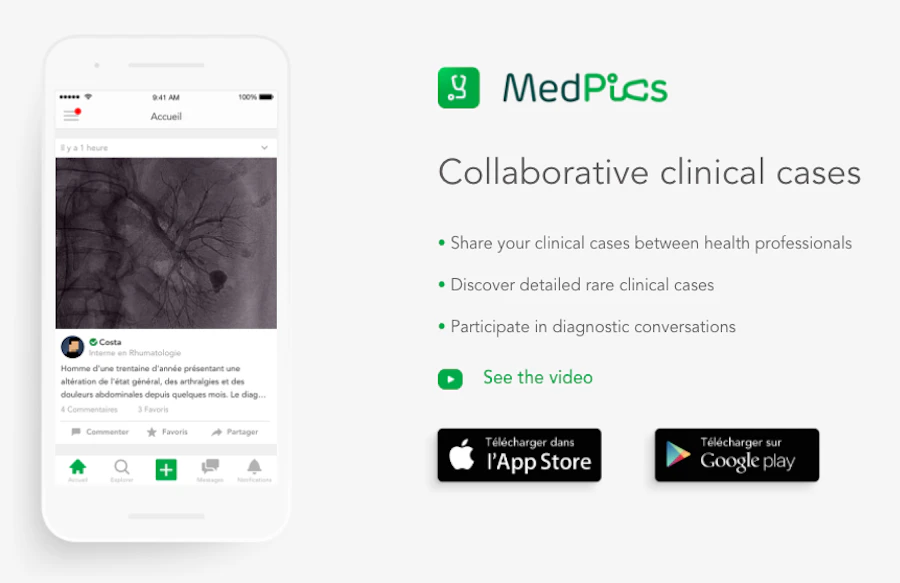 Early-stage reactions
. . .
What has been some of the feedback that you've been getting from people?
We tested with a small group first, our co-founder's teammates. The feedback was great and we received lots of ideas to improve it. We also gave the app to medical students in the South of France and Paris to try. They were really active on it because they're used to social media. Some of them suggested having more features, including a messaging feature which we liked a lot and are actually building and releasing this week.
Something that we didn't intend for, and didn't even consider, is that as we scrolled and viewed the content that people were posting, we saw that more and more people were using it as a quiz platform.
They would take a radiographic picture or post a picture of a skin disease and ask people to guess what it was. People would then comment on it, guessing names until someone wrote the right answer. At that time, we were unsure if this was going be a feature embedded in MedPics or a new product but we thought it would make for a great quiz game for people studying for their medical exams.
We're now building a new educational platform and the quiz feature is definitely going to be embedded in it. This idea came by accidentally, by looking at how our users used our product in a way it wasn't designed for.
Keeping patients' identities safe
. . .
How do you deal with patient confidentiality and security?
When you sign-up, you'll need to prove that you're a medical professional or medical student by sending a picture of your medical or student ID. If you don't do it after a few days, your account gets blocked and you can't access most of the features. This is one of the very first ways that we're making sure the app stays within the medical field.
We also have rules to anonymize any pictures you upload and tools in the app to help you do that. For example, you have to remove eye colours, tattoos, names and anything that could identify the patient.
If the patient feels uneasy, they can fill a form inside the app for an extra layer of security. We also have a community manager who checks pictures before they go on the platform. This is to help ensure that only quality content is posted by professionals for professionals.
Monetising the app
. . .
The MedPics app currently is available in France. Are you also planning to expand this to new markets?
We really wanted to at first, but we also understood that we needed to make a bit of money with MedPics. When we started, we didn't have a business model. The app was free and is still free actually.
It took us about a year and a half until we came up with the idea of 'Private Groups' which is a version of the app for smaller, more private groups in organisations. This is our first succeeding business model and an organisation would pay by the number of users using the app.
With this business model, we'd have to first focus on one country. That's why we're still in France at the moment or French-speaking countries. However, we may launch later in Europe.