It typically takes physicians anywhere from a few to 20 minutes to prescribe birth control—with Nurx it takes less than 30 seconds.
For many women, getting access to birth control safely and on time is a vital healthcare need. Even with health insurance, the cost of getting birth control can be a deterrent and can prevent some from accessing the drugs they need to enable them to take control of their health and ultimately, their lives.
Based in San Francisco and currently available in 16 states in the U.S., Nurx provides people with a hassle-free way to get birth control and PrEP delivered to them, including refilling and renewing prescriptions automatically without a trip to the doctor's office or pharmacy.
Joining us on this episode of HealthRedesigned are Dr. Edvard Engesæth, a physician and Co-founder at Nurx, and Michael Rurka, Design Lead at Nurx. They tell us about the service they've helped design to break down barriers and allow more women to have convenient access to birth control where and when they need it.
Structured, asynchronous medicine
. . .
What is Nurx trying to fix in the healthcare space?
Dr. Edvard: As a physician, I learnt that people often have issues getting prescriptions filled for birth control and would frequently run out of it. Often times, friends or people in my network would call me because they ran out of birth control. So, I would do a phone consultation and send the prescription to the pharmacy, solving the problem for them.
I saw an opportunity here and became really interested in trying to fix this problem. We did a little bit of research and found out that birth control is very safe. It's sold over the counter in more than 100 countries, and in countries where it's not, the rates of unintended pregnancies are higher.
In the U.S. alone there are about 3 million unintended pregnancies every year. We became really passionate about increasing access to birth control to solve that problem. That's how Nurx started.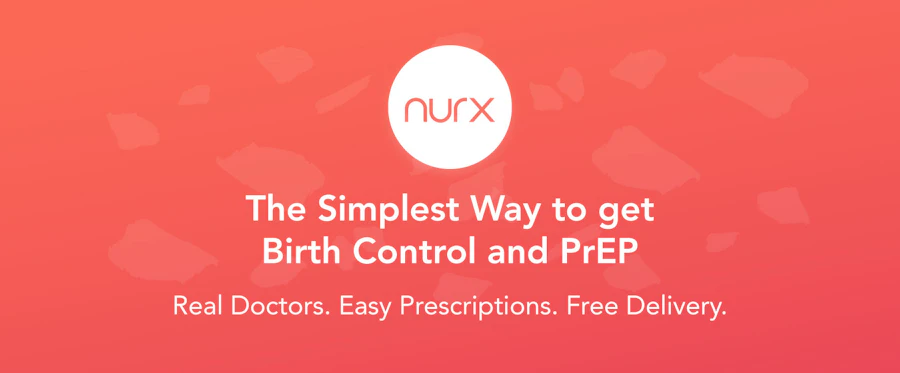 Barriers to birth control
. . .
What is the situation in the U.S. when it comes to birth control?
Dr. Edvard: It a bit of a political subject here, whether or not people should be taking birth control. We also hear horror stories time after time about the stigma that people are faced with even with their primary care physician. I really didn't expect this to be the case for birth control and I saw this as more of a convenience issue.
But after interviewing a lot of patients who are users, we heard about the stigma that could come from really religious physicians or people in rural areas and close-knit communities where there's only one physician who also knows your parents.
There is also a lot of stigmas associated with PrEP (pre-exposure prophylaxis) as well because the majority of candidates who are high-risk individuals of getting HIV are men who have sex with men. Studies have shown that taking this PrEP daily when you haven't been exposed to the HIV virus, provides more than 99% protection against it.
The CDC (Centers for Disease Control) in the U.S. has said that 1.2 million Americans should be on PrEP, but so far only about 100,000 people are taking it. At $1500 per user per month, it's fairly expensive, but it's covered by all insurances. However, navigating that entire terrain can be pretty strenuous, which is why we've streamlined everything for the user—hopefully, we'll be able to get that drug to a lot more people who could be using it.
How does the current insurance system pay for birth control?
Dr. Edvard: Usually, you'd make an appointment with the doctor for a consultation, and with the Affordable Care Act (ACA), there shouldn't be a copay on the consultation. However, if the physician asks you questions not related to birth control prescribing, they're able to bill you, which happens a lot.
Although insurance companies provide a few methods of birth control without a copay, they don't communicate this transparently and change them often. So, even though your copay should be $0 when you fill your prescription, in many cases it costs between $20 and $70, and for some that can be a lot of money.
In the best case scenario, prescriptions get filled every three months. But for most cases, it gets filled in the final week before it runs out and we've heard firsthand what this actually does. Many times, people run out of birth control and end up with an unintended pregnancy, dramatically changing the course of their lives.
Being able to provide birth control easily with cost transparency, helping users understand which birth control is covered with their insurance with zero copay and not charging them anything for the consultation, provides a service that's better than anything that's out there.
Improving birth control access for all
. . .
How can users get birth control through Nurx?
Dr. Edvard: We have a wide variety of birth control that you can choose from. Our web app helps you choose the right birth control based on your health profile and if you're uncertain, our physicians can recommend one for you. Once you submit a request, we ask you the same questions that a physician would ask you at the doctor's office. We present those answers to one of our partnering physicians and they review each request on an individual basis, so there's no automation going on.
On our HIPAA-compliant messaging interface, users can directly communicate with physicians to ask questions. There's also an option to speak directly over a phone call or video conversation. When the physician is happy, they issue a prescription. It goes to one of our partner pharmacies and they send the drug straight to the user.
In cases where people don't have health insurance, they're still not charged for the consultation and can buy birth control from us at a much lower price than anything that's currently out there.

Designing with empathy in mind
. . .
As a designer, to what extent do you have to learn about the healthcare system and birth control, Michael?
Michael: I need a level of proficiency to understand the environment in which I'm designing and in which users are describing their experiences. When a user says, "Getting birth control used to be such a pain but thank God you guys are here". Why is that? To some degree, I do have to learn about the American healthcare system, how insurance works and how pharmacies bill with copay—thankfully a lot of that is deferred to Edvard and Hans, our CEO. But it's still absolutely necessary for me to understand what's going on even though I'm not at the forefront reading every single disclaimer in detail and every law for example.
If your listeners haven't noticed by now, I'm not a woman and that's been my greatest challenge—developing a level of empathy that I can understand. When I first started, I had to Google 'birth control'. I kind of knew what it was, but I didn't know there was the ring, the patch, the shots, the reasons for it, the side effects and how it works. I got to the point where I realised I'm going to be at this company for a while and I really like the space, so I should double down and learn all this stuff.
How has working at Nurx and working on something that's gender-specific been for you?
Michael: When I first came to San Francisco, that's when I started realising I'd gotten the sort of eyebrows of like, "Why are you designing for birth control? You're not a woman." I started getting a sense of imposter syndrome personally, to the point where I was on the verge of thinking that by not being a woman, am I potentially doing a disservice to Nurx and women throughout America? What if I gave my spot to a woman designer?
At the same time, I think that it doesn't have to be a gender-specific issue. Regardless of your colour, orientation, gender or how you identify, you can still join the good fight. Part of that comes from a philosophy of social good in general and sexual health falls under that umbrella. I don't let my gender get in the way of trying to do my best, designing an experience for women and for the future of literally everyone to access essential drugs.
What were some of the biggest learnings you discovered during user testing?
Michael: The biggest insight I got was that I knew nothing when I thought I knew something. My first user tests were definitely daunting because I felt like I barely knew anything about birth control and here I was asking people about it. However I'm always surprised. I've had people who are very comfortable sharing everything—typically if they're a little bit older, they're more comfortable and willing to talk about things like that.
On the other spectrum, I've had users where within the first five seconds, I can tell are not comfortable. So, I designed my questions carefully to avoid forcing anything if they're not comfortable talking about it. What really impressed me was the myriad of reasons why women want to get on birth control and why some were on birth control, but then stopped. The reasons range from, "That's what my doctor gave me" or "That's what my friend said" to "I really don't want to get pregnant." For some individuals, preventing pregnancy isn't the main reason. Instead, it was painful periods that they want to regulate, regulate their cycle or regulate hormones to improve acne etc.
Making more essential drugs available
. . .
Are there any specific problems in digital health that Nurx is planning to tackle next?
Dr. Edvard: It's really fascinating how we've completely changed the dynamics of how patients and physicians communicate with each other. Our users love chatting with our physicians through the app and a lot of our users have been asking us to solve other healthcare problems like UTI infections and acne problems. These are likely going to be the next products that we launch.
I really didn't expect anyone to come to us with these other problems and assumed that everyone thought this was a birth control and PrEP app. I think that the comfort that the users experience with Nurx and their ability to be proactive and come to us with this feedback is something that's incredibly rewarding as a physician.