Performing operations repeatedly and having exposure to many different procedures can make all the difference in a surgeon's career.
But as a surgical trainee, performing these procedures can be daunting, especially if you've had little to no real experience with a particular procedure. So how do you prepare for a surgery in a way that's safe and convenient?
Based in London and New York, Touch Surgery is a surgical simulator that uses 3D rendered content to help healthcare professionals learn about surgical procedures and rehearse for surgery. It's available for free as a mobile app—giving anyone, anywhere the opportunity to learn about and practice over 100 surgical procedures that span 15 specialities.
Joining us on this episode of HealthRedesigned are Product Lead, Ali Bahsoun and Senior UX Designer, Fiona MacDougall.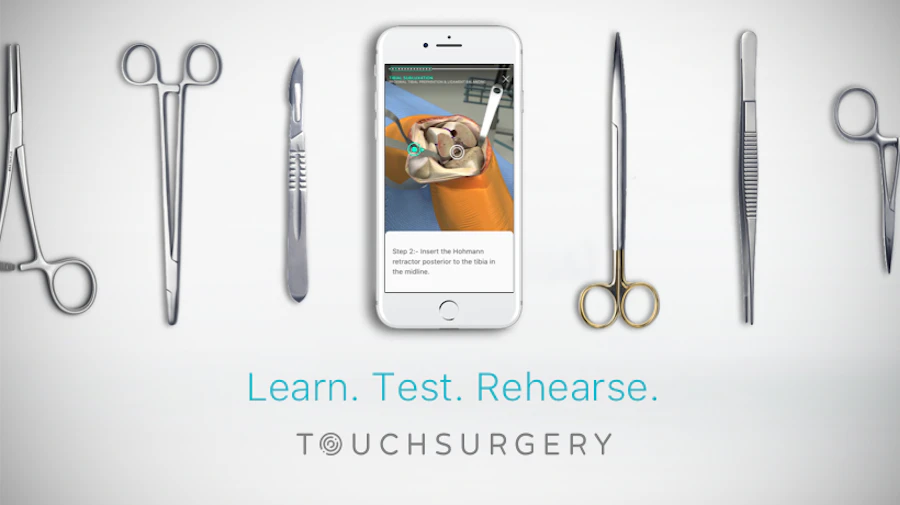 Enabling better surgical training
. . .
How is Touch Surgery changing the way healthcare professionals learn about surgeries?
Ali: Surgery is a really complex task. We break it down into really simple instructions for anyone to go in and understand what's happening and why it's happening so that when they're in the operating room, they're aware of all the surroundings and what everyone's trying to do.
How's that different from the way surgeries are currently taught?
Ali: Scarily, the vast majority of people are learning to operate on real people. They go into the operating room, but instead of learning how to carve a table, they're learning how to carve out your insides. It's gruesome. In the west like the UK, US, France, Germany etc., we have really good training labs but in emerging markets, there isn't that level of training so it's very difficult for them to practice outside of the operating room. But even with these facilities, it takes a lot of money to train someone on very specific surgeries.
We've actually taken up that huge technology component which can cost in excess of £20,000 to about £100,000 pounds per simulation and used this technology that exists in everyone's pocket. Before, it would take you a simulation room that costs in excess of £1 million just for one procedure, but now you can get a hundred or so of our procedures in your phone and access it anytime and anywhere.
Who are the typical users of Touch Surgery?
Ali: About 60% of our user base are doctors and surgeons. The others are a mix of nurses, anaesthetists, other healthcare professionals, patients and educators. We've also worked with a team in Rwanda who wanted to see if they could use the app to train their surgeons because they don't have the simulation centres or areas where trainees can go in and practice on synthetic models. So they downloaded the app and distributed it to the trainees.
They recently published an academic paper about the results from this which is really exciting because they could train their surgeons on how to do procedures and the feedback in the paper was amazing.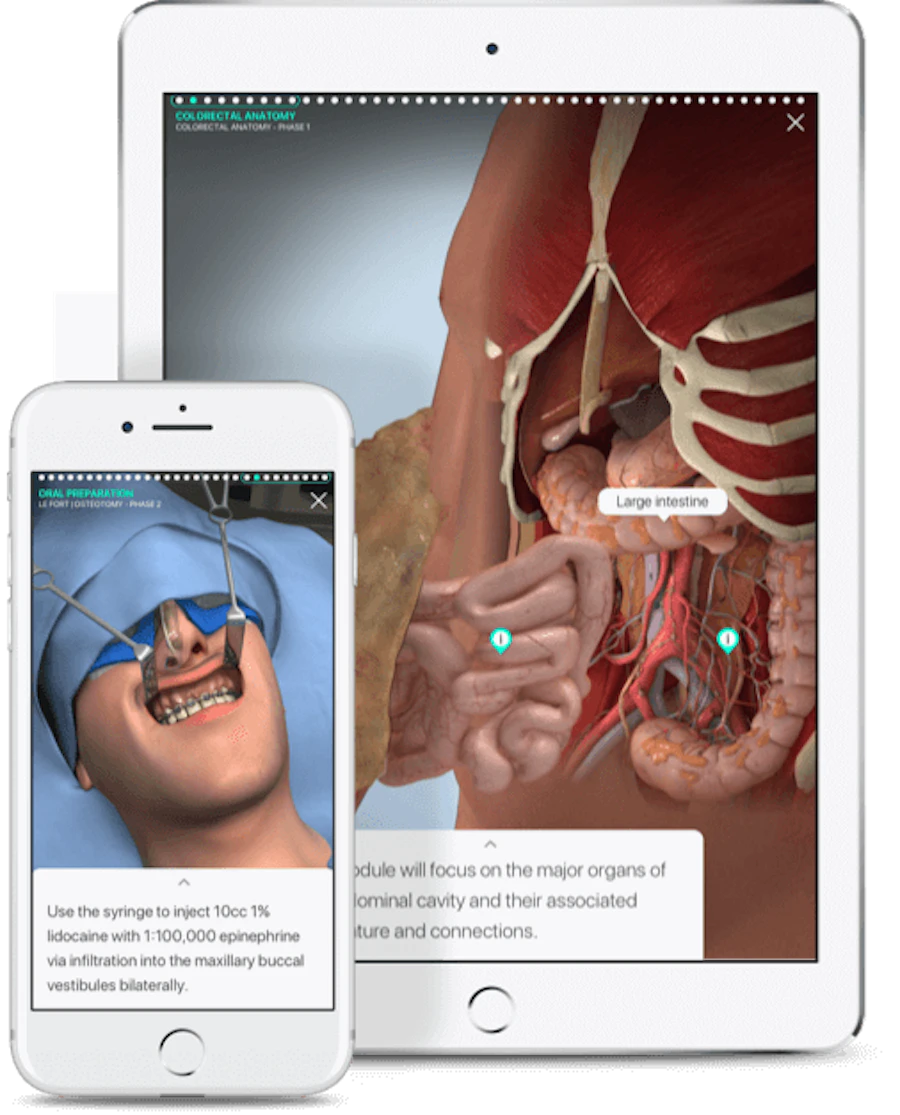 Creating with users in mind
. . .
What kind of procedures does Touch Surgery have on its platform?
Fiona: We have over 100 surgical procedures spanning over 15 specialities which include orthopaedics, plastic and reconstruction, neurosurgery, urology and they've all been authored by surgical leaders in their fields. A lot of them are from renowned institutions such as Stanford School of Medicine but we've also got device companies like Johnson & Johnson and not-for-profit organisations who are promoting surgical excellence like the AO Foundation.
How long does it typically take to create and develop one of these procedures?
Fiona: In general it's around three to six months. We'll start off by writing a script of the procedure and this is a collaborative effort between our internal medical officers and the clients or key opinion leaders who are sourced by the clients or the institution that we're working with.
Towards the end of script-writing, the animation team starts to prepare some assets. These might be surgical instruments or even the patient asset itself. Then, we create a virtual procedure using the animation techniques, develop the right textures and deliver the final sequence. Finally, we develop the interactive layer like the draggers you can use to make an incision on the patient or drag a scalpel.
Throughout the whole process, we have a feedback cycle both internally and with the client to ensure we're developing the correct vision of the procedure.
Is there any specific feedback you've received so far that's changed the way you're designing these videos?
Fiona: What was surprising for me was how hard it is for attending surgeons or program directors who are teaching to actually know how well their residents are performing. It's a very subjective measure and they usually fire questions at the residents in the operating room to get a feel for how much they know.
It's all about their confidence in the resident to know how much responsibility they're going to give them. At the moment, the residents only get formally assessed once a year and up until then, nobody really knows for sure how well they're doing in the program.
We're trying to tackle that now with the use of assessments so that the residents can improve their levels of competency. Things like the number of times they've tried the learn module and practised the test module, as well as their scores, really helps to give the people who are teaching the residents an idea of how they're progressing, how effective their teaching is and maybe which areas of their teaching they should focus more on.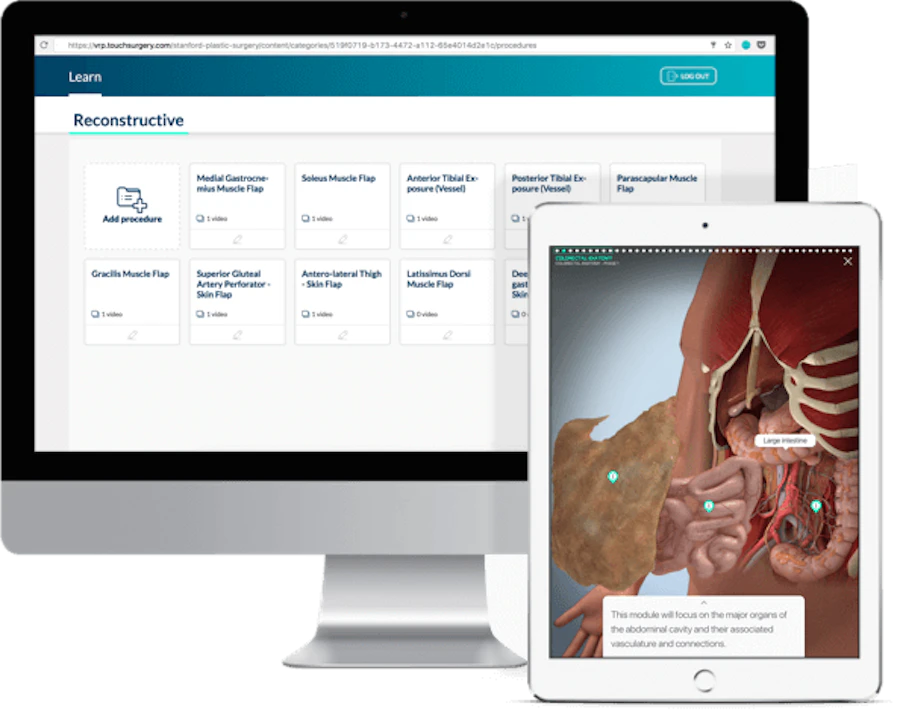 Redefining the future of medical education
. . .
Once somebody has learnt the procedure, what's next for them down the line?
Ali: Medical education is really complex. The first step is trying to understand the basic principle before understanding the different approaches and going on to understand why would you use one approach with one patient and another approach with another.
It's not just a matter of doing one procedure on the app and then you're done. You really have to see a diversity of cases and we're a good portion of that stepping stone. Videos really allow people to see a wide variety of different patients so that you can see not just one technique for how to take out the gallbladder, for example, but you can start to see how one person does five different cholecystectomies or taking out the gallbladder. And then you can see why this surgeon does it this way and why that surgeon does it the other way.
Getting that exposure, I think is what takes someone from a novice to an expert.
How difficult or easy has it been to convince doctors and surgeons to use Touch Surgery?
Ali: If I'm going to convince you not to spend one hour with the patient and instead use it on a smartphone, I'm going to have to really justify that. My first job at Touch Surgery is to work with the different universities and hospitals to see how Touch Surgery can help them teach surgery and how they track their progress over time and if it's a better alternative than reading a book, watching a video or going to a workshop.
Over the last few years, we've published about 14 different papers, each looking at the validation of Touch Surgery. So now when we say, "Hey you should use Touch Surgery in the hospital," and they say, "Oh, so what's the evidence, Ali?", I'll say, "Good question, I'll send you 10 PDFs about why you should use Touch Surgery, specifically in your hospital." Initially, there was a bit of friction but we've taken the same approach that's typically used in this industry to show people our value.
You've also started working with virtual reality headsets. Will the procedures become available in a VR format eventually?
Ali: We know that AR technology and immersive VR is really developing. As that technology becomes available in the hands of the end consumer, then it might be something that's really worth pursuing. Right now, because everyone has a smartphone, it's good for us to develop for the smartphone, but in a year or two, all these commercially available AR and VR headsets are going to be coming out, so we're really playing a lot with the technology.
We've done quite a bit in terms of immersive VR demos that some surgical device companies have used to train people. We've displayed some at exhibitions on wearing the VR headset in an operating room and watching the surgery happen in 3D. We've also used an AR headset to allow you to interact and be part of a surgery, not just watch it as well as wearing a headset in the operating room with consent and recording the procedure for trainees to use.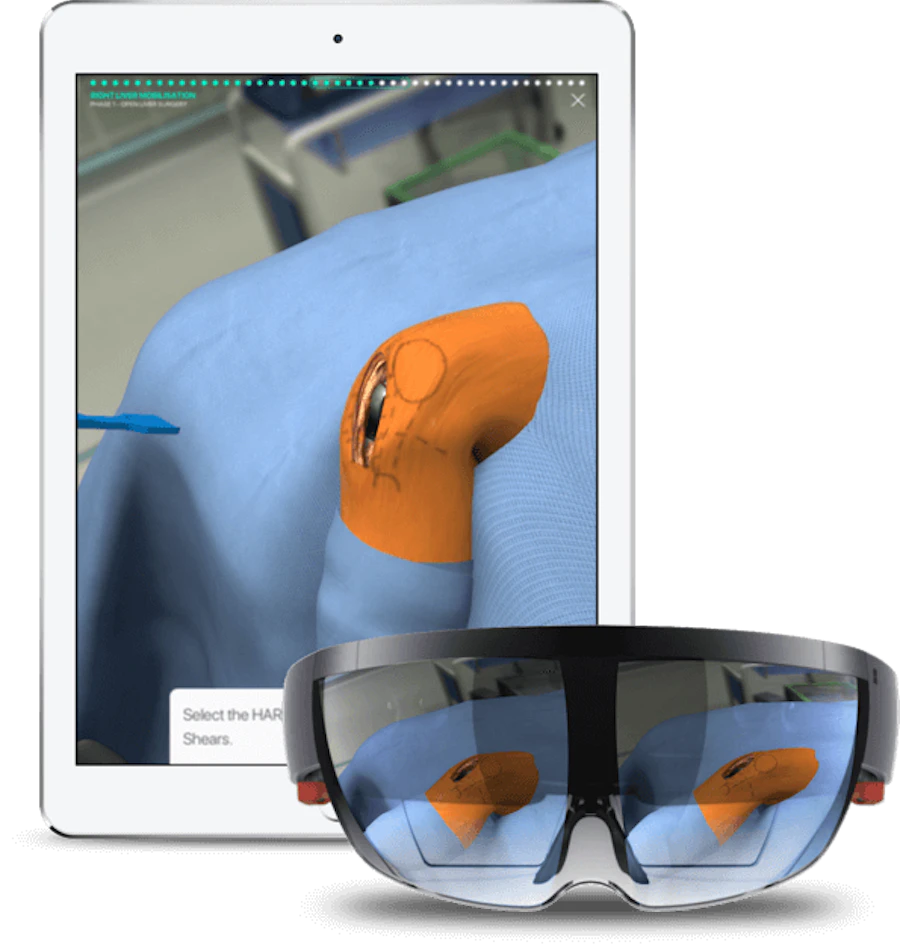 Are there any new features you're planning to introduce?
Ali: One of the really exciting things is for people to be able to work in groups. It's one thing for you to use Touch Surgery and then get some scores back to see how you're progressing in an area, but more importantly is our partnerships with universities, training programs and associations. So now, if your hospital is part of the program, the person in charge of your training can see what you're getting up to and your progress.
Another exciting feature we're piloting in some universities now that's going to come out fairly soon is for any person within a training hospital to log in to the platform, upload their surgical video, tell us how they do their surgery and put that in the app. So now it doesn't take us the three to six months to get another procedure on the platform but instead about three hours for you to be able to share your personal technique for other people to see.
Touch Surgery is available to download for free on Google Play and the App Store. If you're a surgeon who wants to get involved in changing medical education or would like to provide feedback about the app, you can email Ali or reach the team at info@touchsurgery.com. They're also growing their product design and engineering teams and are currently looking for talent.