Having quick, reliable access to mental health services can be life-saving. But more often than not people find multiple barriers in their way when it comes to getting help.
Healios is a digital healthcare company that's set out to change that. Reimagining the way children, young people and adults interact with mental health services, Healios combines technology with specialized clinical expertise to provide care for patients from the comfort of their own homes, exactly when they need it.
Joining us on this episode of HealthRedesigned is Chairman and CEO Richard Andrews.
What does Healios do & why does it exist?
Healios is a digital platform which transforms the way people access mental health care. It's designed to give users support, which up to now has been severely lacking, by bringing this kind of engagement online.
Our mission, since the company was founded 5 years ago: has been to create an entirely new online patient experience. This means that when they access mental health services, they can be given psychological assessments and psychological treatments that easily slot into their day-to-day lives. We have radically changed the way that users interact with mental health services. If they want information about different types of mental health conditions, then it is easy for them to get it on their mobile device or computer. Being able to access healthcare and get vital information anywhere, any time, is so important.
What gave you the inspiration to found Healios? Where did this all begin for you?
I had members of my family, along with friends who were impacted by mental health challenges. It's only when you know someone who is going through these things, that you realise just how they are bounced around the system. They were not getting help when they needed it the most, and this was really distressing to see. This scenario is just the same for countless other people who are in this predicament, and just as it is now, there is not sufficient support, and most people do not have friends or relatives with expertise knowledge or skills to deal with continuing mental health issues. So this experience drove me to rethink the whole mental health experience and harness the latest technology to bring out new services which can transform lives in the most positive way.
How did you get started?
At the start of my commitment to focus on improving mental health, I was fortunate enough to be able to join my long-time friend Dr. Lars Hansen and his colleagues when they visited people with severe mental illness in the South of England. This really was an emotional and heart wrenching experience to witness how mental illness is ripping families apart.
This led me to create a strategy using an online solution that not only supports the patient, but also brings the family together. One of the most important things about Healios is how we bring the entire family together with all our services. By building an online family-based solution for severe mental illness, and monitoring the results, we have been able to uncover many other barriers and challenges. These have become particularly apparent in regard to children's mental health. For example: in the UK, very sadly, many children are kept on waiting lists that can be as long as a year. And so this is where Healios comes in: we try to analyse and then fix this dilemma, by constantly evolving our services.
How does changing people's access to mental health services radically improve their lives?
At this moment in time, globally, there are over 600 million people suffering from a mental illness; every 40 seconds someone takes their life as a result of their condition, so nearly a million people a year take their own lives. Naturally, this has a devastating consequence, not just on the families, but also on society at large.
And that is where changing people's access to mental health services comes in. The fact that there are not enough clinicians around the world to treat 600 million plus people, means that we need an urgent solution, and thanks to technology, we now have one. People no longer have to travel hundreds of miles and spend a fortune just to get to a clinic that offers psychological services. Technology is helping us pull down these barriers, so that we are empowered to deliver high quality services to anyone with internet access, regardless of their financial budget.
We are working on driving down the cost of care, because if we can do this, then we can also increase the number of people that we can support. We have done a great deal of work over the last few years to really address these challenges and deliver really exciting solutions that we can embed in NHS services around the country.
Have you been successful in connecting clinicians with patients and their families?
Yes, we have! This is because this process creates better health outcomes. Right from day one at Healios, we wanted to figure out how we bring the family together, because it's an essential DNA component of everything Healios is about. Basically, we are trying to figure out how we can bring the family together knowing that the members are all leading different lifestyles with some of them working, and others not. Some are living in different places, and so on, so there are many challenges. But as extensive research shows: if you bring the family together, you get a better outcome.
If you involve the family right from day one for psychosis you reduce unnatural deaths by 90%. That's the power of involving the family.
What is the online interaction using Healios like?
At Healios, we believe that patients should be able to access our service in a stress-free way, that could even be fun. If this comes about, then it increases the chances of the patient and their family engaging in the full benefits of a service. And so when it comes to connecting with the patient and their family members, we ensure that they have a broad choice of hours to choose from to access the service. By offering seven-day-a-week appointment times from 8:00am to 9:00pm, such flexibility gives the patient and their family a good chance to get together via a smart device video link - and through a web-based connection, they can actually be anywhere.
One innovative feature allows users to actually pause video feeds and have intimate one-on-one conversations with their clinician, but still keep the family in the midst of the conversation. It is also the case that patients who might suffer from anxiety on an in-person visit to a clinician, do not feel this way during an online appointment. This could be down to the fact that they are in the comfort and security of their own home, and that they do not have to feel uncomfortable visiting a clinic. And while some patients and their families may opt for in-person contact, many want to access care on their own terms using the technology they use all the time for other things. So in their case, turning to technology to receive psychological care is very natural fit for them. They are fully in control, and because the control is in their hands, they can just close their laptop lid if they want to end the session. So Healios is finding that this system of remote care delivery, makes users feel much more relaxed. And this in turn, brings benefits on how they receive care, because if someone is a lot more open and relaxed, and much more willing to talk about their thoughts, feelings and behaviors, then they are going to get more benefits from the service.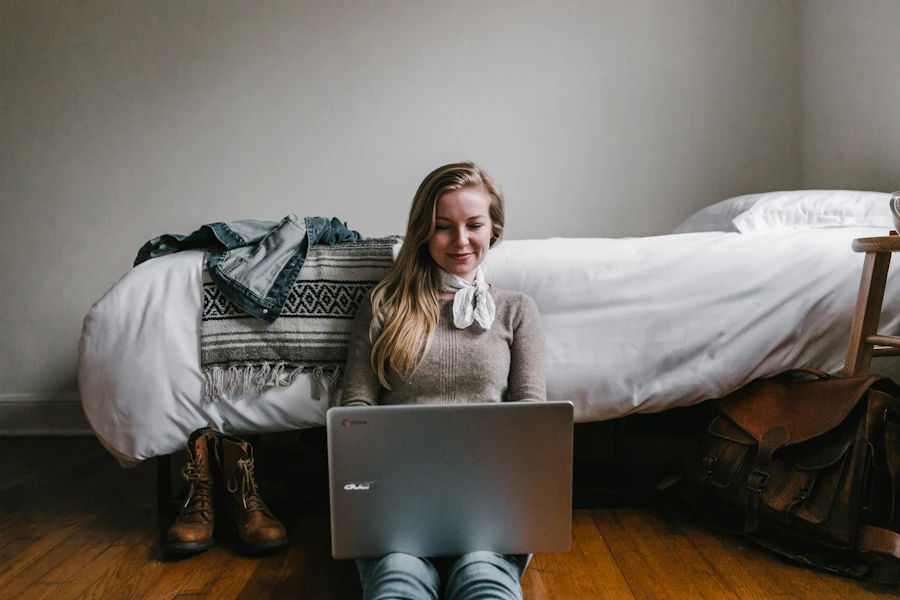 Are the younger generations more accustomed to feeling a personal connection within an online appointment?
Yes, they really do gravitate towards our digital services, instead of the option of going face-to-face. We have contracts with various NHS organisations around the country. When young people are presented the option of: "Would you like to come and have face-to-face therapy with us here, or would you like to go online with our partner Healios?" 8 out of 10 young people opt for the online option with Healios. And we reckon this is due to the simple fact that this generation coming through, are digital natives. They've been born into a world where technology is omnipresent. And healthcare is part of the package. It's just a very natural interaction for them, and this makes us think about how we can continue to design the services around children's lives. In fact, over the last year or so, our Healios Lab team has been developing some really exciting new solutions which fit in perfectly with this digital native population.
So what innovations are you offering the digitally native generation?
Over the last year, our thoughts regarding this situation, is how we must move toward more app based solutions which bring high quality care to a young person on their terms, that they can access any time of day, without the involvement of a clinician. To that end, we have developed a new solution called ThinkNinja.
It's an app that is designed to support mental health and emotional well-being, and to build resilience within children. It's also engineered so that, if a child aged between 11 and 17, develops symptoms of anxiety, or an underlying mood, it can also help them. So the ThinkNinja app is partly about preventative care, which is so important for this generation coming through, but also about early intervention and support for young people, if they start to develop symptoms of mental illness.
It allows a virtual clinician to be in their pocket 24/7, so if they are feeling down or anxious, they can simply go to their phone and have a great experience with a wise ninja virtual avatar, and get the support that they need as quickly as possible.
What new initiatives do you have in the UK?
We have an exciting new initiative with the Department of Health and Department of Education, which is all about how we bring mental health care into schools across the UK. The ThinkNinja app will be particularly beneficial here, as it is really cost effective. In the UK, we are witnessing a rise in mental health challenges within young people, and on top of that, we are seeing ever increasing waiting lists for children accessing child and adolescent mental health services. So we feel that the ThinkNinja app can play a really important role in preventative, as well as early intervention, to preclude some of the children needing specialist mental health services.
Do you think we will be able to quantify mental health in a better way by harnessing technology?
Yes, I certainly do! Finally, there is now a way to track objective digital data, which can have a really important impact on understanding whether certain treatments are more effective for particular individuals. This could lead us to changing a specified treatment far quicker if we do not see the impact of all the captured treatment data being reflected in the health of a patient. This data is transforming how we diagnose patients, and Healios can also introduce digital therapies into people's lives in a way that scales psychiatrists and psychologists. The ability to quantify mental health is certainly going to help us when it comes to increasing prevention. For example, upgrading the ways that we perceive behavioural change, early intervention, and other methods that can be used to really benefit people's lives.
Ultimately, with Healios, mental health patients and their families are likely to gain so much, as this support will form part of their day-to-day life. Moreover, it will bring the patients and their family and loved ones closer together through understanding and group involvement and support. What could be better?
Links