Ava are out to connect people with hearing difficulties to their hearing friends and colleagues.
Their app turns speech into text, and text into speech, and has the potential to radically change the way deaf users communicate. It's a powerful cause, and we were very excited to be a part of it.
Their hugely passionate 3-member team had just exited the BoostVC accelerator in San Mateo, California, where they'd been working long and grinding days to try and get their product out onto the market. They were making fantastic progress, but of course, there's only so fast you can move, as a small team. We decided to team up to spend a week helping them overcome some of their biggest challenges, with our 5-Day Sprint process.

In a single week, we built and iterated through 10 prototypes for onboarding users into the app, conducting a user interview for each one, and spoke to about 15 users. At the end of the sprint, they were left with several validated prototypes, and far deeper insight into how they could go about solving their next challenges.
"It's literally hiring a SWAT team of designers. You want to work with these guys."
—Pieter and Thibault, Ava
Pre-sprint: Figuring out how we could make the biggest impact
Ahead of the sprint, we had to get things set up so that we could make rapid progress once we began. So, in 2 pre-sprint Skype calls, we spoke to Thibault and Pieter about the biggest UX challenges that Ava were facing.
These ranged from simplifying the experience of pairing hardware with the app, to handling tricky nuances in transcribing spoken voices. But as we discussed all of these, it was clear that onboarding was the top priority, and one where Hanno could help make the biggest impact.
This was going to be a very collaborative process. We would be the ones leading it, but we'd need their team's help and insights in order to maximise the amount we could actually get done. So we spent time discussing how the sprint would unfold, and the time and resources we'd need from Pieter and Thibault. Once they were comfortable, we asked them to put together as much of their existing user research and knowledge as possible, including prototypes, UI mockups, personas and interview data.
And so, we had our brief
A new user has just downloaded the Ava app. Rethink the onboarding experience to be as strong as possible. Guide the user (whether deaf, hearing, or hard of hearing) through fearlessly holding their first conversation, and scaling up to talking to a group.
How can we help them discover how the app works, and clearly understand its purpose?
How can we help the user to understand the right way to use the app with others?
How can we help them grasp the help it provides, towards more and more situations where they never felt comfortable before?
Day 1 & 2: Building our understanding and coming up with ideas
On all of our 5-Day sprints, we make use of the Design Thinking mentality and workflow. We've built a system which allows us to very rapidly explore a problem, build prototypes, and validate these. Of the 6 stages in the design thinking process, we aim to complete the first 4 in days 1-2 of a sprint, and then move on to prototyping for the remainder of the week.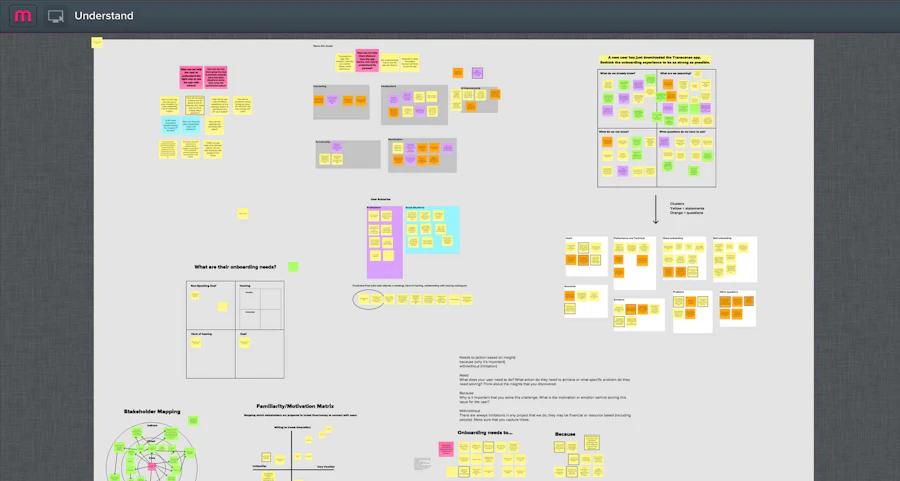 Stage 1: Understand
The Ava team had already done a lot of great work with the app's design, and knew a huge amount about their users. It's unusual for us to kick off a sprint where we have quite as much great user research and feedback. But since a big part of our strength as an external team is providing fresh insight into the problems our clients face, we knew we needed to build upon this information with our own research.
So, once we'd reviewed everything that Thibault and Pieter had given us, we began to use the design thinking mentality to understand the problem as deeply as we could. We worked through exercises such as:
Listing knowns, unknowns and assumptions around the problem.
Analysing the existing onboarding experience using journey mapping, considering each step of the process along with the user's emotions at each stage.
Carrying out more journey mapping using the user personas that the Ava team had developed already, to build on their understanding.
Carrying out stakeholder mapping and matrixing, to force ourselves to consider the needs of everyone who might come into contact with the app.
Deep dive in our Design Thinking Wiki
Check out our design thinking wiki, which breaks down each step of the process, and the resources we use. We're currently working to gradually build it out, and it's open source and available for anyone to make use of.
"What you guys did gave us a great baseline of where we are right now, bringing it all into shape. By going through the understand stage, you clarified all of this knowledge we had, and that was a huge value‑add."
— Thibault Duchemin, Co-Founder
Stage 2: Define
Once we had a deeper understanding of the problem, we were able to bring the brief into focus more and make sure that the whole team had a strong understanding of the problem to be solved.
We used charetting to organise our updated understanding of the problem, and also identify the wider issues we'd need to address, too. Then we refined and edited the brief a little further, to create a clearer opportunity statement, to give us focus over the next few days.
Stage 3: Ideation
With a strong understanding and opportunity statement in place, we were ready to ideate. We also continued to research how other apps used onboarding, and brought some of these ideas and best practices into our own ideation process. We were particularly interested in the speed of onboarding approaches, the tone of voice used, and the differences in tutorials and other ways of engaging the user.
All of these insights got dropped into a big, clustered collage on our research and ideation board inside Murally. We then began to move into using ideation methods like brainstorming, associational thinking, and a few other techniques. These can seem a little unconventional, especially if you've not used them before, but there's no question that they work. The results of the ideation stage definitely backed that up:
"The whole onboarding user flow with Ava (our robot coach) was something I really liked. When I saw it, it definitely made me think "Oh, this is great and I would never have thought about solving the problem this way."
— Thibault Duchemin, Co-Founder
Stage 4: Converge
Given our goal to minimise the number of upfront 'onboarding' steps the user would have to go through, as well as making it as emotionally welcoming as possible, we'd been looking at some slightly less conventional approaches. Once we'd run through our ideation we had a very large bank of ideas to choose from. Now, we had to pick one of them to explore more deeply.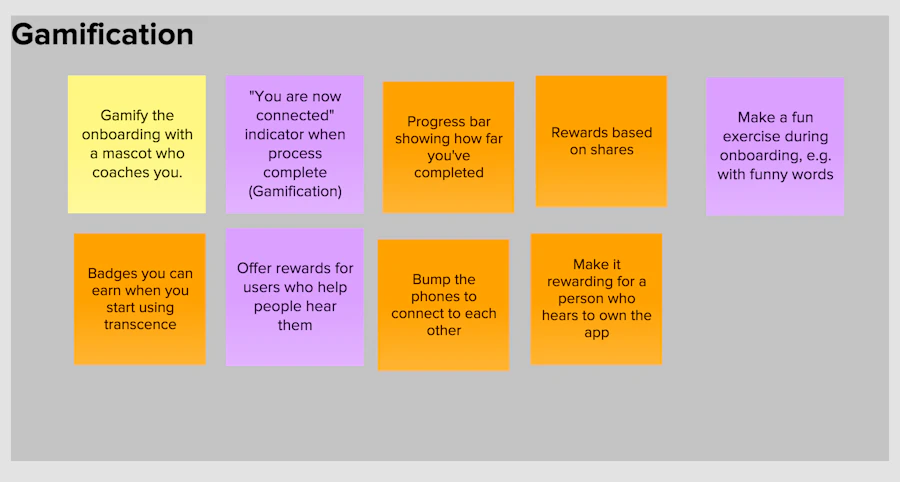 As we looked over and discussed the ideas we'd pulled together, it was clear that one direction was particularly interesting: to "gamify the onboarding with a mascot who coaches you". It was rough and had no real sense of a firm plan, but this was an idea that we all felt had promise, and could be taken forward to prototyping and exploration.
Days 3 to 5: Prototyping and Validating
Now comes the part where we finally get to start thinking with our hands, and to dive into prototyping. By day 3, we had a strong understanding, a solid idea to begin with, and everything we needed to get started.
We'd been confident about our progress and so the previous day, we'd asked Pieter to set us up to run a testing session with some of the members of their target demographic (deaf and hard‑of‑hearing people) that their team was already in touch with. He managed to set up a remote user testing session with a group of deaf and hard‑of‑hearing users at the Washington School for the Deaf, which we'd run in the afternoon on day 3.
At the time, we'd not been certain what we would be testing—simply that it would be a prototype we'd need feedback on.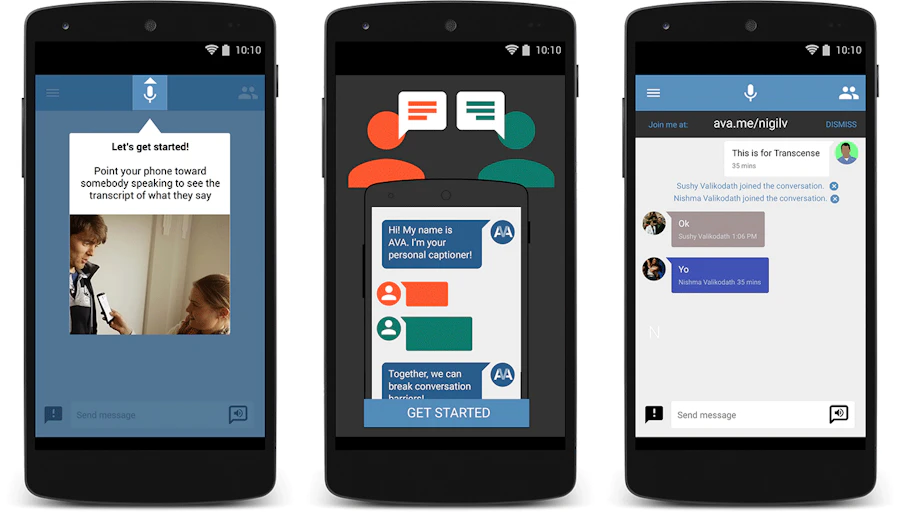 Ava had already put together a set of fairly high-fidelity prototypes using another app, called Flinto, so of course, we initially thought it would be good to continue along that same approach. But we knew that with the user test approaching, we would have to keep things as lean as we possibly could, to make certain that we had a testable prototype within a couple of hours and get hold of some deeper insights. Even a relatively lightweight app like Flinto would be too slow for our purposes.
Building our coach: Ava!
So we started to prototype this onboarding experience using a mascot who would provide coaching guidance. The Ava app is a very unusual product with a pretty specific user base. Since it's related to medical assistive technology, which can sometimes be uncomfortable to use, it was very important that the onboarding experience was similar to a trendy and stigma‑free consumer product.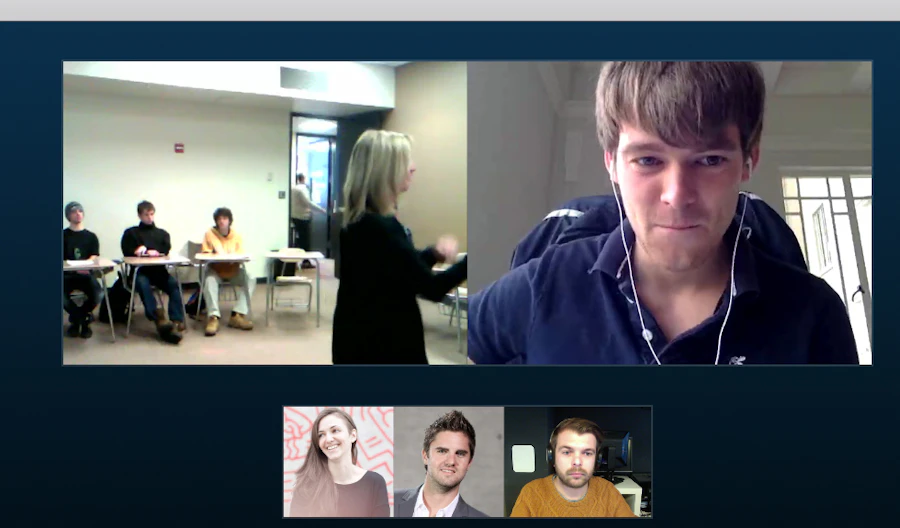 Side story
To allow us to prototype as fast as we possibly could, we decided to not use any of the higher fidelity prototyping options, and instead, opted for Google Slides, to build rapid prototypes. Read more

Very quickly, we built up an onboarding journey with a helpful penguin mascot named Ava, who talked the user through how to use the app. It was rough and scrappy, but it was good enough to get feedback with. We wanted to make sure that our test users responded favourably when we measured their emotional reactions to the prototype.
We weren't trying to interrogate our users—getting emotional feedback is a tricky business—so we avoided writing a pre‑defined interview script. Each user test would have two components:
A low‑fidelity prototype, built in Google Slides
A set of conversation topics that we used as the basis of a discussion with the user.
Coaching
We also wanted to make sure that Pieter would be able to carry out further tests himself—it'd be no good completing the sprint unless we made sure the Ava team could continue to prototype and iterate in the same way, and get deeper feedback as they continued to build their product.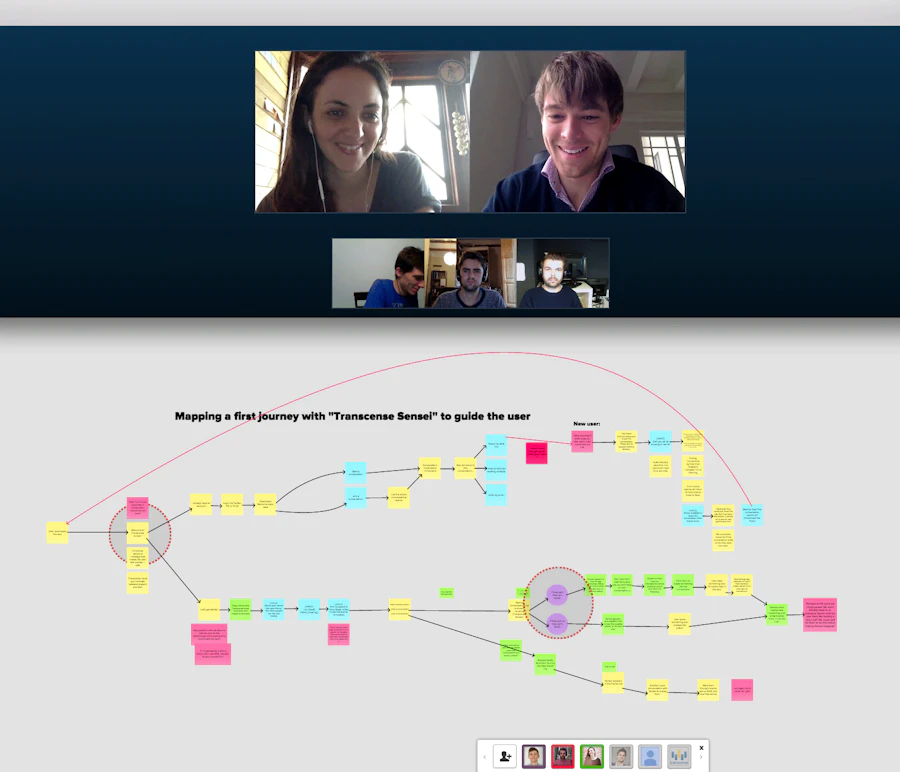 So we worked with Pieter to come up with a broader set of discussion areas, and coached him on how to get the right feedback from the users. He ran some of the interviews himself, with one or two of us in attendance, and once we'd refined the script, he moved on to running further tests solo, gathering up the feedback for us to use later on.
This was a particularly effective way for us to get hold of real‑world feedback from users in California, too, when Pieter conducted a few 1‑on‑1 tests. We've used this approach a lot on other projects, and it's a great way to build up skills with our clients, and avoid many of the limitations of working remotely on projects.
"I can see how important it is to have a really solid system for working together. And that was really interesting, to come inside the world of Hanno and learn from how you all do this. We'll definitely use many of these techniques and tools by ourselves in the future."
— Pieter Doevendans, Co-Founder
Deepening our understanding through prototyping
The design thinking workflow is very fluid and non-prescriptive. So it's to be expected that you'll jump back and forth between stages as you find issues which need to be understood deeper, or explored more.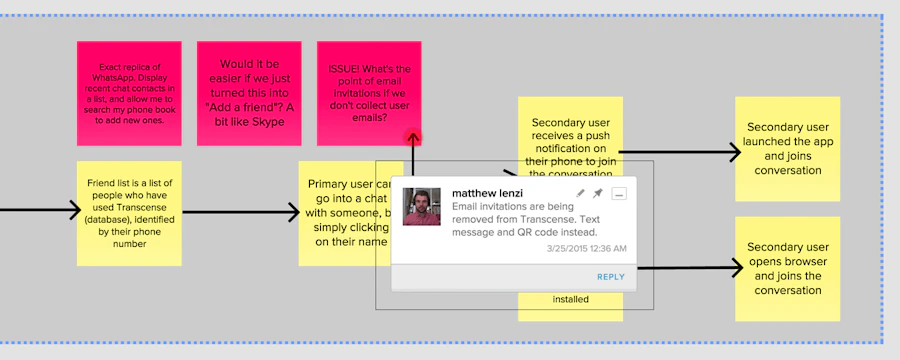 As we prototyped and iterated, we started to understand more and more about all the different elements which would affect a user's onboarding experience. But what was lacking from Ava's understanding of the problem they were looking to solve was a visualisation of how all of these different elements fit into the journey. This was related to onboarding, but of course, had much deeper implications for the whole experience.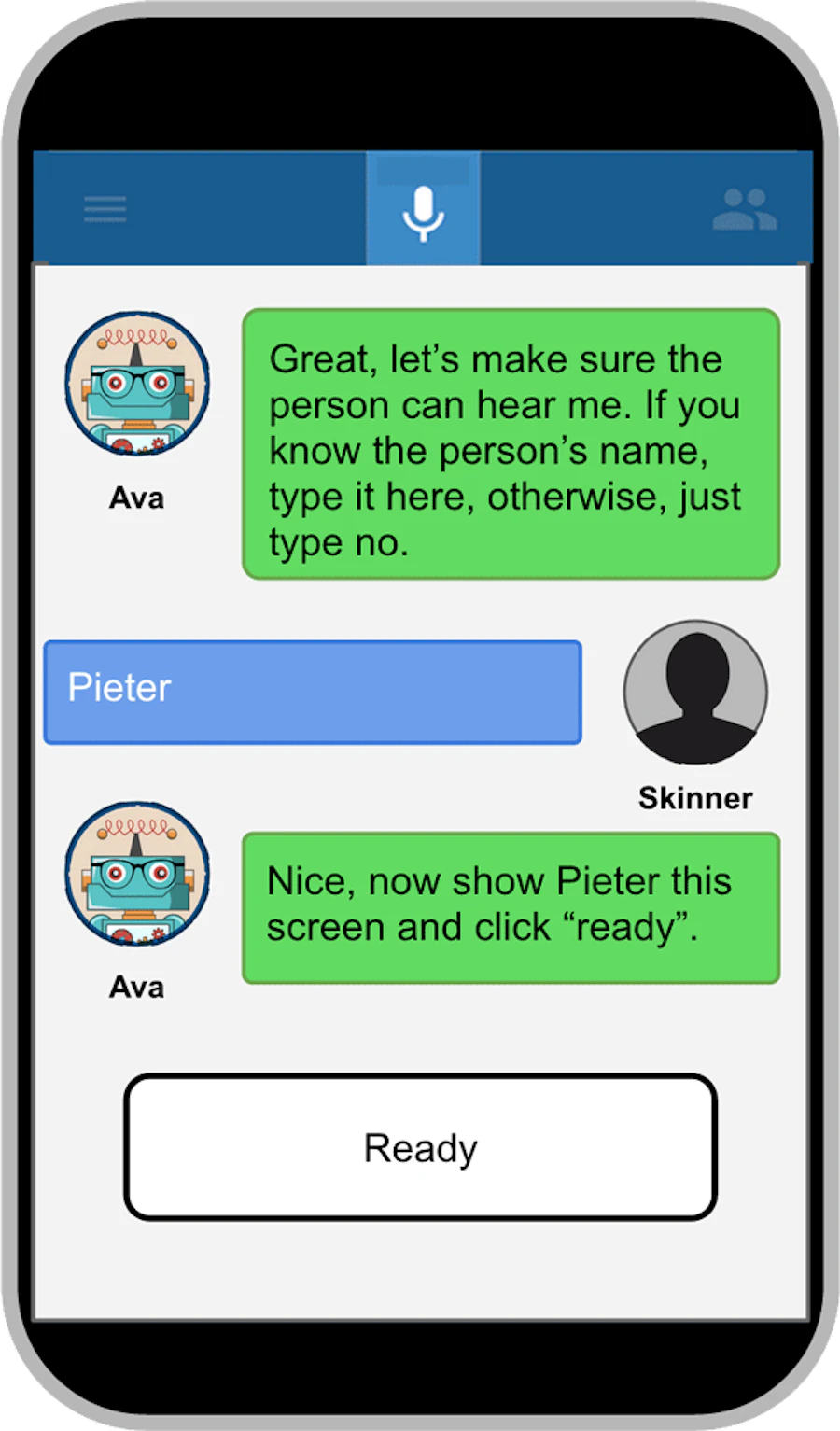 And so during the prototyping process, we used the feedback we were gathering, to develop a very thorough journey map showing how the entire onboarding process for the app would unfold. Each prototype revealed a little more of the process, and helped us to identify particularly challenging points that the Ava team would need to explore in the future, too.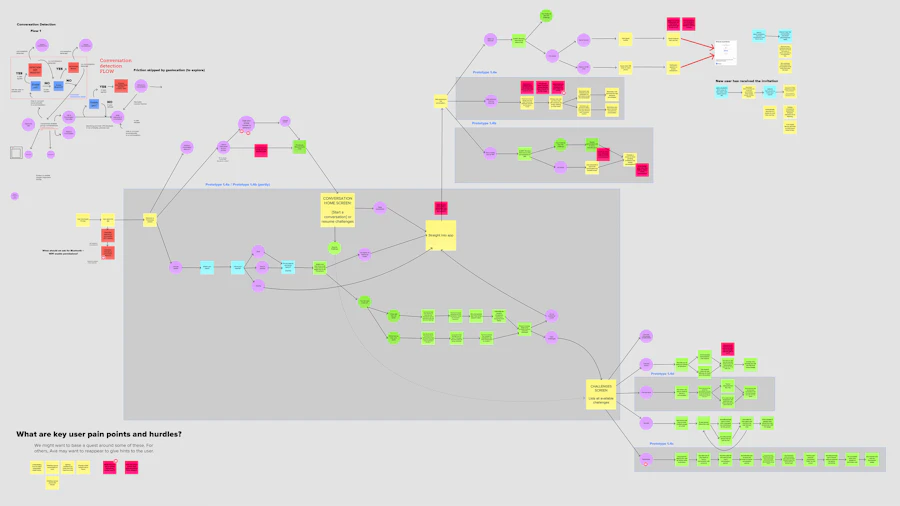 Final results
It's hard to do justice to the amount of ground we covered. In 3 days, we built and iterated through 10 prototypes, conducting a user interview for each one, and spoke to about 15 users.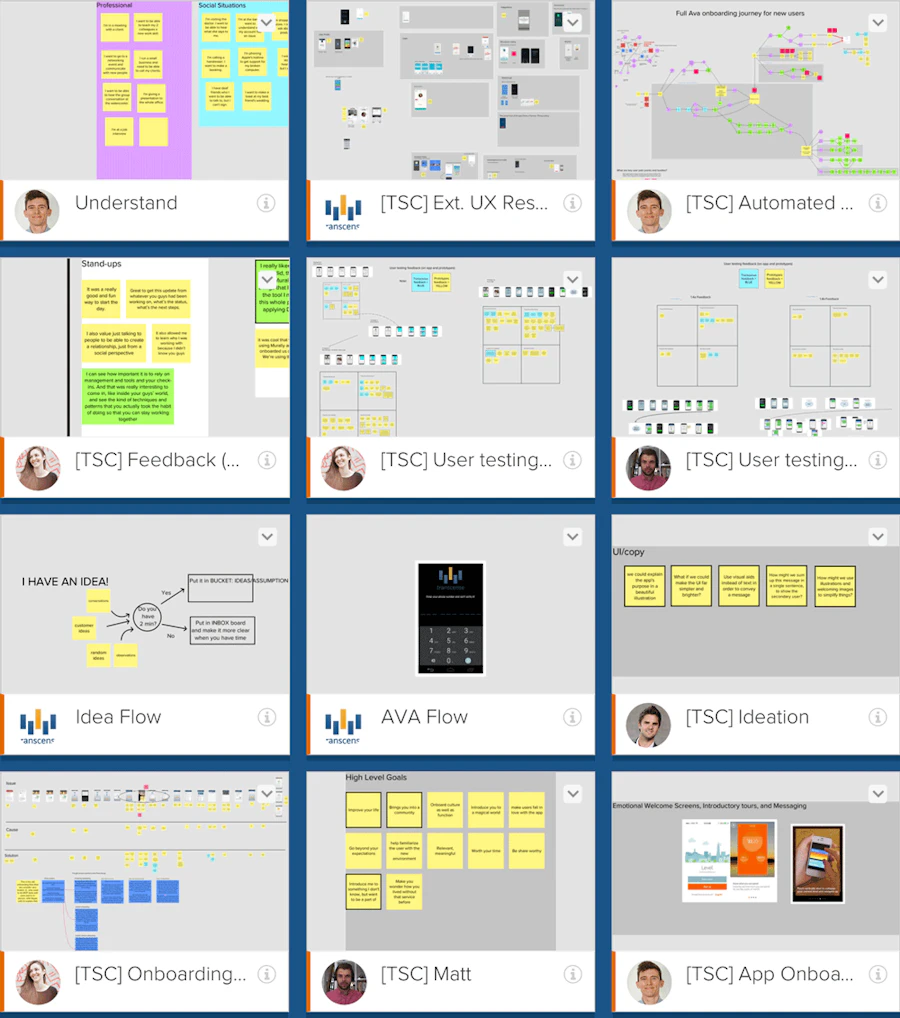 Into their hands, we delivered:
Journey Map
A developed journey map inside Murally, which their team took forwards and turned into a key internal tool, to map and build upon our learnings and insights.
Validated Ideas
2 very different developed and validated ideas for onboarding approaches. These weren't just hypothetical ideas, but rather concepts that we tested thoroughly and iterated significantly.
One with the Bot walkthrough, which is the one we've described in this case study.
Another with less focus on onboarding screens and walkthroughs, and based more around onboarding entirely through a text-chat conversation.
Various Prototypes
Several other prototypes, including some for other areas of the user experience, like their web interface.
"The purpose of the sprint was about really nailing down a couple of things that we just couldn't figure out how to do. And you guys really did do a great job with that." — Thibault Duchemin, Co-Founder
And into their heads, we delivered:
A bank of future ideas and insights. Even though we couldn't prototype all of the ideas we had, we made sure that all of these were organised and put into one place so that the team could pick them up in the future.
Deeper product and user understanding. Via a fresh perspective and deep research, we helped them to uncover many different approaches to solving their product problems, and a better understanding of their users, that they hadn't necessarily anticipated.
Design thinking experience and expertise. While they had some familiarity with the design thinking mentality already, the opportunity to participate in a proper sprint and use it fully, gave them the experience and confidence to use it again on future tasks.
User interviewing and research skills. Thanks to working closely with Pieter on the user interviews, he was able to improve his skills even more, which will help their product going forwards.
A stronger testing culture within the team. Our rigorous prototyping and testing system was even more aggressive than they'd done themselves, and was something they committed to keep up, combined with a willingness to take prototypes to users far sooner.