It seems hard to believe now, but when we worked with Uber in September 2013, their dominance in the London market was far from certain and drivers had reservations about joining the service. In just 2 weeks, Uber needed to get more drivers out onto the streets of London.
Uber came to us to learn how they could overcome these and challenges and unlock the market. The result was a mobile-first website and European strategy that addressed drivers' reservations and resulted in rapid market growth.
When Uber approached us one gloomy day in London, we were intrigued — Jon especially, as an avid TechCrunch reader, he'd been following Uber's disruptive growth. In London, operations were still in their infancy, but despite that, Uber was already beginning to see plenty of consumer demand from the city's tech savvy inhabitants. To continue to deliver an outstanding customer experience, they needed to ramp up the number of drivers they had out on the streets — and that's where we came in.
In the US, Uber have already built up a huge pool of drivers, accustomed to how the app, and their company, operates. In London, they were much more of an unknown, and needed to do a lot more work to help potential drivers understand how they were different. Uber needed a website capable of taking on this challenge.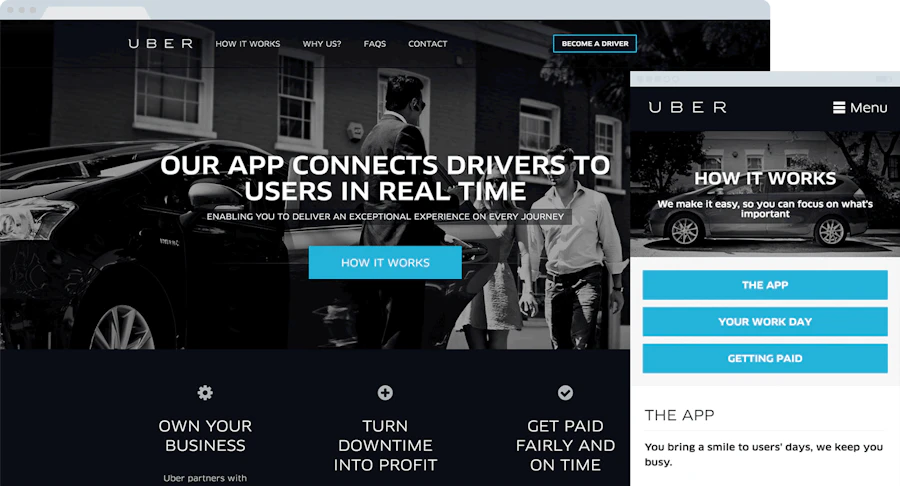 Being a progressive start up, they have a hankering for moving fast and radically transforming the markets they infiltrate. They needed this site built and shipped in just two weeks. Luckily for everyone involved, we love a good challenge — but we knew that in order for the launch to be successful, we'd need to be very flexible and resourceful — our design process would have to include both gathering content, and also producing it, and figuring out an overall strategy.
Sitting down with the Uber team one thing became apparent early on:
You need to understand your users in order to create a better experience for them. To entice prospective drivers, we needed to get to know existing ones.
To entice prospective drivers, we needed to get to know existing ones. This meant using the app, taking some rides, and talking to the drivers about their Uber experience. What had persuaded them to drive for Uber? What were the benefits of working with them?
Even if the Uber team had their own assumptions, these were questions only a driver could answer fully. The more knowledge we could gather at this stage, better we could understand what the site needed to communicate, and tailor its content to provide an outstanding user experience.
Out on the streets
So, after downloading the app onto our phones, Jon and Matt said "so long" to the London public transport system, and started riding with Uber, to and from their co‑working space and meetings. Uber's offerings in London at that time were divided into two camps — UberX (a direct competitor with London's taxi drivers) and Uber LUX (the luxury option, rivalling private car hire services).
So we split our time equally between the two, asking questions to home in on the benefits of the app. We decided to keep a log of each journey and record the answers we got.
Discoveries
The user research we conducted at this stage led to several discoveries that informed the way we designed the site. It's fair to say that without this key part of the process, launching the site with quality content on deadline would have been a tall order.
The main takeaways from the user research stage were:
1. Simplicity is a virtue
If the website didn't reflect the simplicity of the app, it would never be effective.
The ease of use of the app is pivotal to the Uber driver. They don't have to worry about where to find customers, or collecting money at the end of each trip. It was all taken care of by the app. They were getting a hassle‑free experience.
London drivers weren't from digital backgrounds, and didn't have the time to learn how to use new technologies. They needed something that would give them the information they need, without having to spend hours figuring out how to use it. This is the reason their mobile application has been so successful.
2. Flexibility is key
Drivers were unanimous in saying that they were using Uber because it gave them the chance to be their own boss, and to work flexibly, on their own schedule. Unlike traditional car hire services, shifts aren't dictated by a controller in an office, who tells you where to go and who to pick up — the app was taking care of that, finding customers based on their proximity to the driver's car, only when the app was active.
As a consequence of this freedom, we encountered a lot of drivers with an entrepreneurial edge: working flexibly helped them to pursue their passions and use their time much more efficiently.
"One unexpected outcome of the user research phase was understanding that many existing drivers wanted to spread the word about how the app was making their lives better, to fellow drivers who weren't using Uber yet." Matthew, Strategist & Researcher.
Applying what we learned
Getting to know Uber's current drivers gave us a goldmine of valuable raw material, and insight into what was so great about the service. But we'd had the opportunity to spend hours talking to them all, and learning how everything worked — users visiting the site wouldn't have the same time, nor the patience. Our tight ship deadline was looming — we needed to get this stripped back, and get to the heart of the message, fast!
Using a combination of video calls, Google Docs and late night coffee shop rendezvous, Matt sat down with Christophe (Uber's Driver Operations Manager in London), and the two of them began to prioritise and whittle down the source material, figuring out the content hierarchy and structure — how it could all fit together and be represented in an easily consumable format. And so we moved from Google Docs and strategy discussions, and into wireframes and layout sketches, figuring out the best way to put all the puzzle pieces together.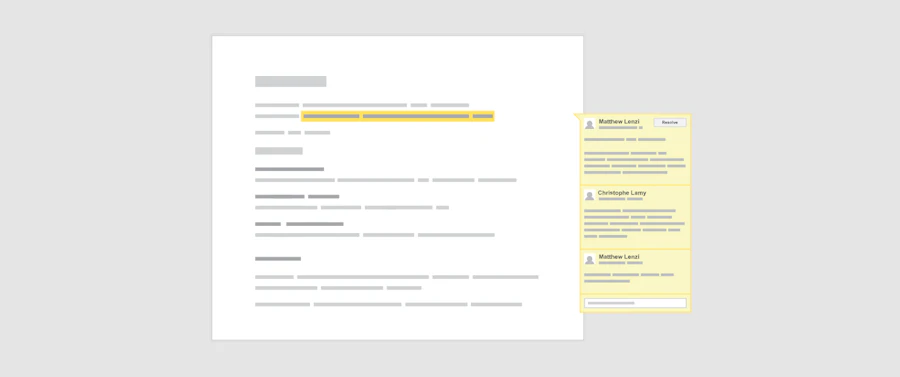 These content workshops enabled us to move at a rapid pace, transforming what was initially a journal of driver feedback and initial ideas, into clear, accessible and informative content, making the user experience as intuitive as possible. The sessions proved to be so productive that the resulting content strategy was much more in‑depth than we had both anticipated.
"It became pretty clear that our original sprint brief (to build a website) was barely scratching the surface of what was possible. There was a real opportunitity to build the site into a tool which could be massively helpful to Uber in London." Jon, Strategist & Developer
Approaching it mobile first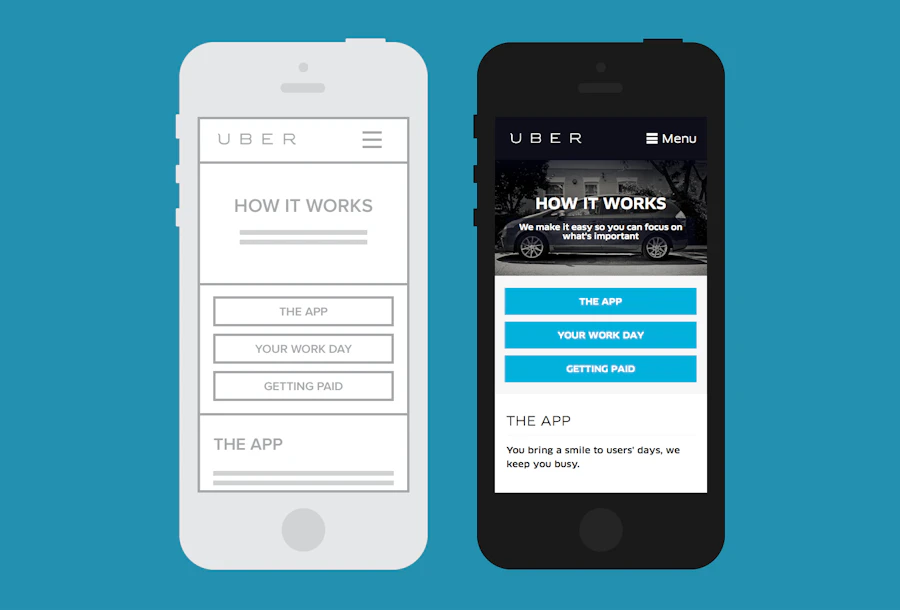 To empower existing Uber drivers to use the website as a marketing tool, we designed everything mobile first, knowing that this would be the most effective way for them to share information with other drivers.
Forcing ourselves to focus on the mobile user experience at every stage of the process also helped us to make smarter, faster decisions and deliver a better product.
Focusing on shipping
There were many opportunities to take things beyond the initial scope of the project, making driver profiles or creating specific content for X and Lux drivers, were both particularly tempting, but to keep this shippable and on budget, we had to remain focused and ensure that we stuck to our core purpose — making the user experience as frictionless as possible.
To do this, we took the wires created in the content workshops, and began to code them up, right in the browser. Working this way allowed us to interact with the website prototype as we designed it, making sure the experience we had conceived worked just as well in reality.
At the same time, we layered Uber's customer facing brand styling onto the prototype. This was not only time and cost effective, but also played to the brand's strengths, as the consistency of the styling would allow for easier navigation of the site for those already familiar with the brand as existing drivers or customers.
Working with a company that values putting the user first and creating products that improve people's lives in the same way that we do at Hanno, was very rewarding, and undoubtedly led to great results.
The project has had a big impact on the local market and is contributing to Uber's ongoing strategy for breaking into other global markets. Moving at groundbreaking speed to build the site, helped us learn a massive amount, a lot of which we've used to improve the way we work on other projects.
What did the team think?
Matt:
Content is the cornerstone of your project. On a tight deadline, this is even more evident. Implementing a solid content strategy, that governs everything from the creation of content, to it's delivery, informs how you approach and build a product. To make an outstanding user experience, it must be the foundation of your site — great content really does constitute the building blocks of great products.
Jon:
One of the biggest advantages that we have as a team, is our ability to pull different skills onto a project (even at short notice) and move a lot faster than others might be able to. If we're working with a client who shares our attitude towards feature prioritisation and shipping faster, and they're willing to get stuck in with collaboration and feedback, it's possible to build extremely successful sites, even on a very tight deadline.
That willingness for a client to get involved and work closely on a project, as Christophe did, is something we'll definitely make a point of looking for on future projects — this project has definitely highlighted why it's so important to us.