ZIRX have all the right ingredients to make it in the startup world. They're ambitious and disruptive, and the experienced team they have put together is determined to change people's lives for the better.
To kick off this mission, they've targeted the stale and backward valet parking industry. The concept is simple: instead of spending time battling crowds for a parking space, you can use your phone to avoid the hassle entirely. At the tap of a button, a ZIRX agent will come directly to you, collect your car and store it away safely until you need it returned. With the ZIRX app you have a parking spot at your fingertips, wherever and whenever you need one.
Working collaboratively with the ZIRX team helped us to deliver an end‑result that we could all be proud of and emphasised a core principle: your website is your master salesperson. It delivers your core messages. It's at the heart of who you are. That process of working to try and communicate everything you stand for in the form of a website truly does help to define who you are as a company. The narrative we created for the website actually goes far beyond the web.
Since our very first sprint ZIRX managed to secure a total of $36.4 million in funding, and are now up and running in 6 cities and counting.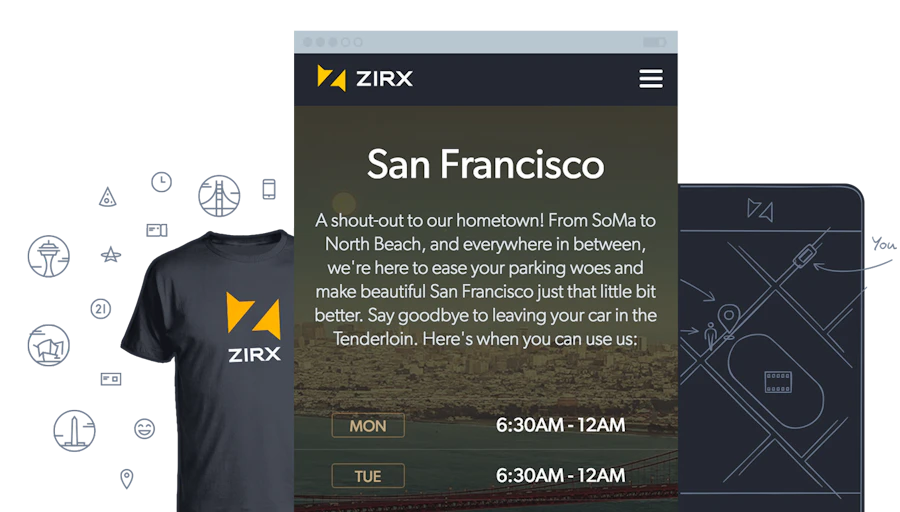 When ZIRX approached us they were only a few weeks old and were dedicating their resources to delivering an exceptional experience both in their iPhone app, and out on the road. Their small team was working hard and making good progress.
"ZIRX is taking something complicated—parking—and transforming it into an on‑demand, mobile‑first experience that is direct, clean, and uncluttered"
— Shmulik Fishman, Co-Founder
But to get people to connect with their brand, download their app and get people 'ZIRXing' their cars on the streets of San Francisco, ZIRX needed to move fast. What they needed was a readymade, cross‑functional team of designers that could hit the ground running and solve key design problems for them. They were on the hunt for some shipmates.
Putting a plan into place
Our gut feeling that this was going to be a good fit was confirmed in our first video call. We looked over their existing site with Shmulik (one of the four co‑founders of ZIRX) and discussed the content and design that they were running with, as well as their project goals. It became even clearer that the way they were presenting themselves online didn't match with the quality service they were offering in real life.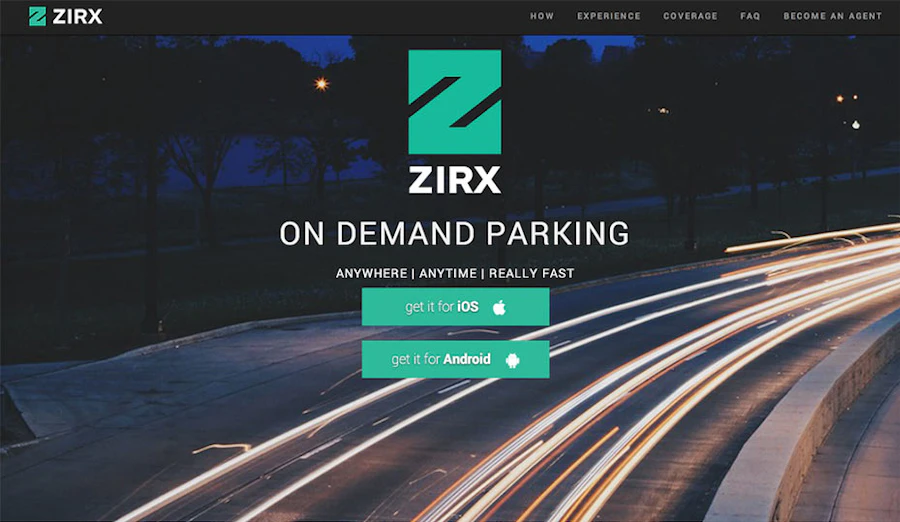 To solve this problem, ZIRX wanted our help to ship a totally revamped site and brand identity in just a couple of weeks. The main goal was to increase user acquisition via stronger brand credibility and get more people immersed in the ZIRX experience. As Shmulik said:
"What we need is a website that catches both users (people needing to park) and agents (our amazing network of valets) and brings them into our world"
In the call, we discussed the best approach with which we could achieve our shared goal. ZIRX wanted to try out a short‑term engagement to see if we were a good fit, get some immediate wins, and see how much we could all achieve together in a single week. We were happy to oblige!
We realised that to get maximum results within the tight delivery timeline, we needed to trial something we had been eager to do for a while—sprints. These would be intensive bursts of work, with a set of team members who would work full‑time on the project while it was running. There would definitely be no jumping between different projects, switching tasks and priorities as we'd done in the past. This one would get our undivided attention.
So we split our weeks up strategically:
Sprint 1: Lay the foundations and make an impact in 1 week
Evaluate the existing site and identify quick wins. Restructure existing content and develop brand narrative, giving users a clear view of the service. Uncover the brand voice and tell their story. Our core goals would be to establish credibility, engage the audience and build trust.
Sprint 2: Build a lasting impact and a better identity
Assuming everything went well in week 1, we'd take things from here with a second longer sprint. In this one, we'd use the understanding gained about the users, company culture and narrative in week 1 to create a new brand identity and visual language that could be layered onto the revamped site content from week 1, enhancing the content and increasing engagement.
Sprint 1: Laying the foundations
Ahead of day 1 of the sprint, we sent out content worksheets for Shmulik and the ZIRX team to work through. This allowed us to get much deeper insight into their business and learn a lot from the people who were closest to the problems we were trying to solve. As we said to them when we sent over the worksheet:
"To craft the best UX possible, we need to understand your product goals, user needs, and business strategy as well as we can before starting to work on the project. You've spent a lot of time working on your product—if we don't draw from your learning so far, we're much more likely to retrace the same steps—which we definitely want to avoid doing!"
The insights we gained from the worksheets meant that we could jump straight into identifying parts of the site where we could make the biggest impact right from the beginning, rather than investing precious time trying to pull all of this information together by ourselves. Research would still be important, but at least we'd be able to do it from a strong starting point.
We spent our first day on the project evaluating the existing website and using the results of these content worksheets to figure out the lay of the land. We were looking specifically for the areas we could focus on to make the biggest possible gains in 5 days, and increase app downloads.
We identified three areas for quick wins and improved user acquisition:
Brand Narrative: Developing a compelling message that would clearly define their value proposition.
How it works: Concisely explaining the product and service offering. Both the app itself, and also how the service worked out on the roads.
Credibility: Using social proof from existing sources to reinforce the value proposition and build trust.
It was important for us to tackle these areas in the first week, as they allowed us to lay the foundation for future improvements. We weren't simply plastering over the cracks or shipping cheap throwaways that would be disregarded later on.
Design pairing
Over the course of the week, Matt got stuck into reworking the content structure. But for the first time he wasn't the only shipmate solving content problems. Upgrading to sprints allowed the team to take advantage of design pairing.
Sergei joined Matt in regular Skype calls and screen sharing sessions, working alongside him to figure out how to present the content and structure it correctly. Occasionally they would split up and figure things out individually—Matt writing copy, Sergei improving the styling, building out new pages and refactoring existing codebase—and then they would meet up and pair again.

As always, we designed live in the browser, and after we had ported the site to Middleman and our Riggings framework, we began chopping out the redundant copy and putting the remaining copy into logical pages. We also created a standalone How It Works page and a Security page to address the user concerns we had identified in the content worksheets.
Working as collaborators
We made one particularly effective change to our process on this sprint. On a recent project of ours, we'd experienced a few difficulties when, despite our direct collaborators on the project being kept in the loop with what was going on, the rest of their team had found it hard to follow what was happening.
To improve things this time around, and to make sure everyone could keep up with our progress, we began to create a quick daily roundup of that day's Plans, Progress and Problems inside a Google Doc. Posting this 'PPP' into the project's Basecamp account at the end of each day kept everyone updated and helped us earn the trust of the rest of the team.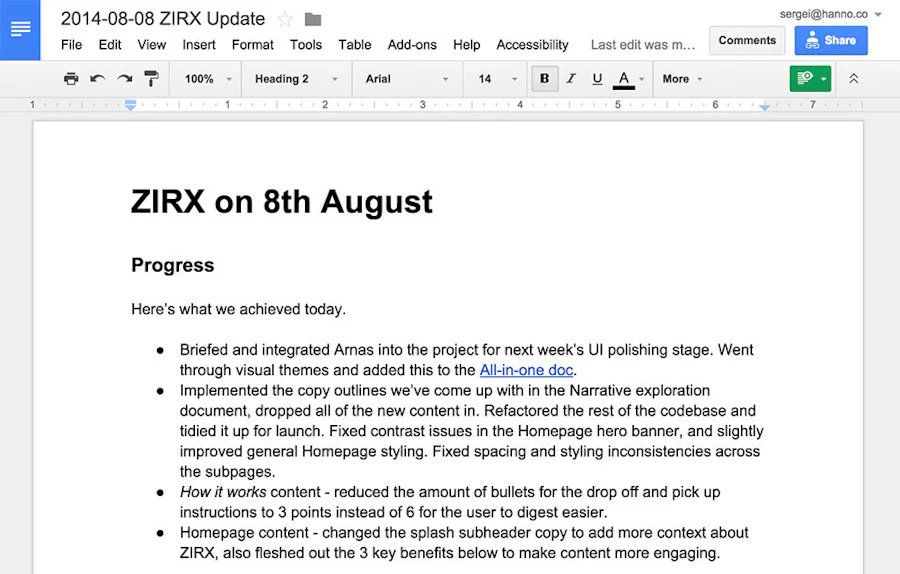 But getting the ZIRX team involved didn't end with just a daily update. For the project to be a success, we needed their ongoing contribution to the work we were doing. We set up periodic calls with the ZIRX team, getting feedback to drive us forwards and ensure we were heading in the right direction. Working alongside them to shape our design decisions and validate our assumptions was key in getting results. The general formula we got from this project was clear: the deeper the collaboration, the better the final results.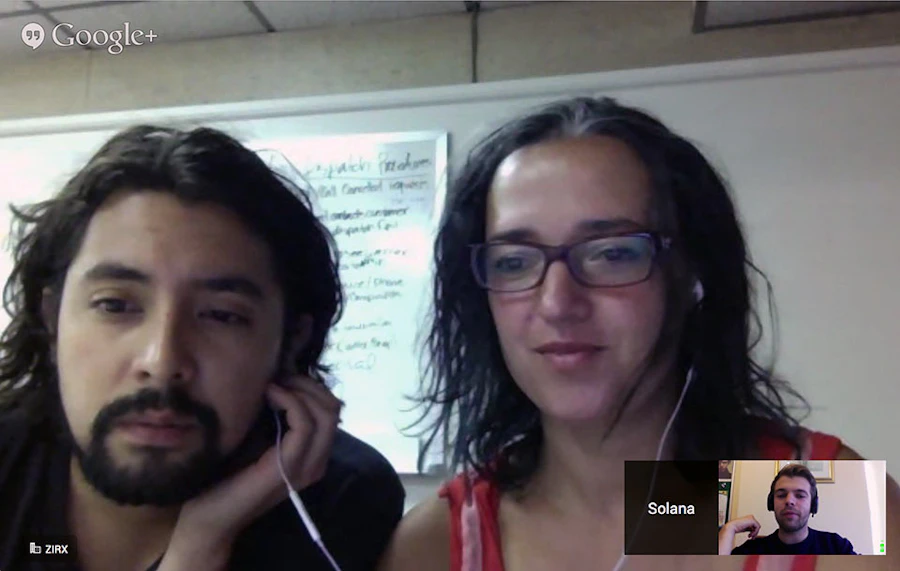 The results
In one week, we'd made big progress and managed to ship a whole range of changes to the live site. For everyone involved, the shorter term engagement had been hugely productive.
As well as creating an engaging narrative and coherent site structure, we shipped a stripped back design which we could easily build upon later.
At this point, we talked things through with Shmulik and mutually decided that the best way to keep up the momentum and make progress would be to immediately run into a second sprint.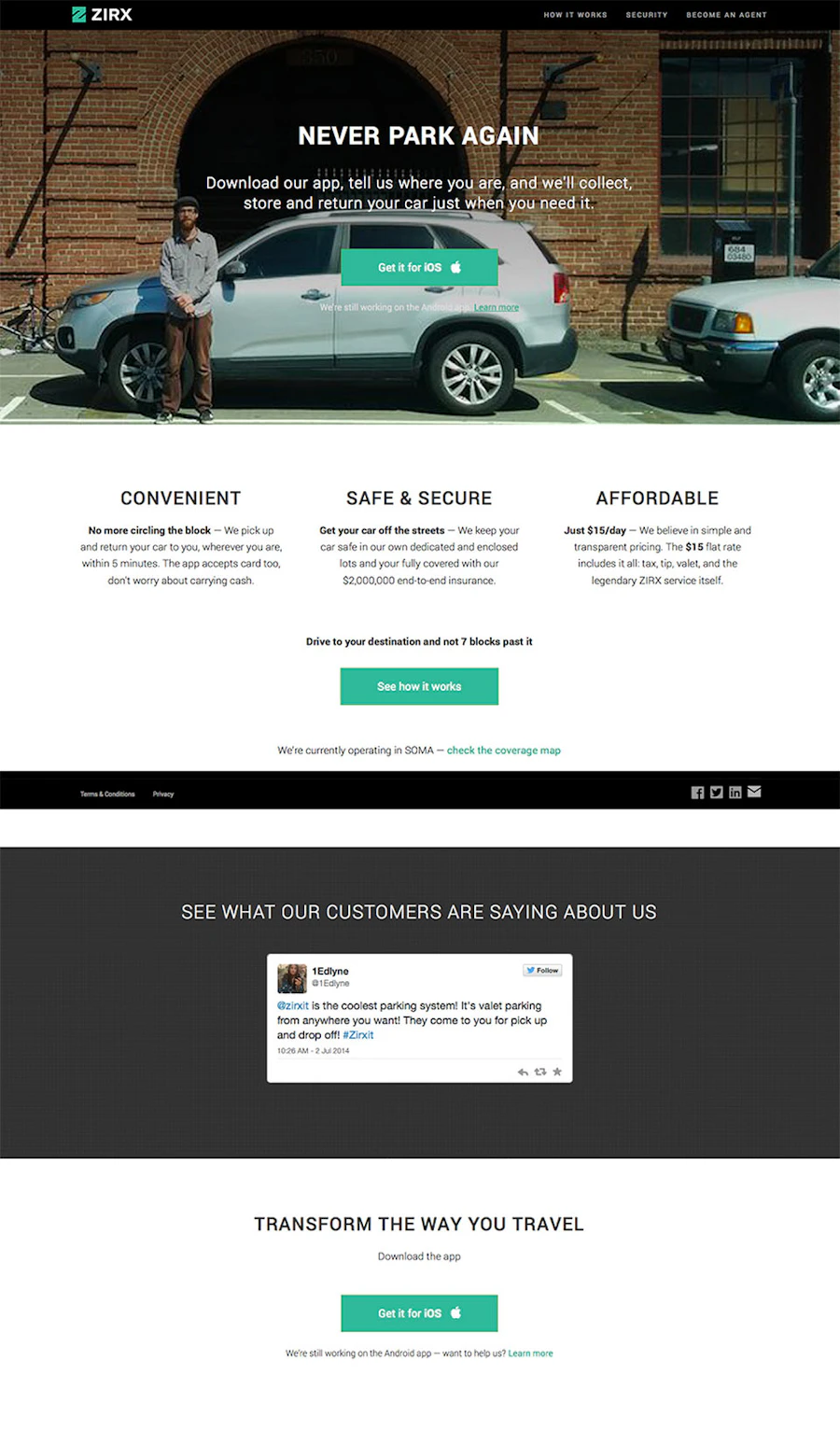 Sprint 2: Building an identity
We kicked off our second sprint energised by what we had achieved in the the first one. Restructuring the site had given us a fantastic starting point, but we were currently running with site content which, while effective, was nonetheless still very raw. And we were still just about getting by with a brand identity which nobody on the ZIRX team was entirely happy with.
As a young startup, their culture, brand and message were still being defined
It became clear at this point, just like in the content phase, ZIRX weren't just in need of a website facelift, the entire project was about helping ZIRX define who they were. The follow up video calls and discussions after the worksheets really made this hit home. We were helping a young startup find their feet.
Our design process was about helping them to identify their identity, culture and personality and finding a way of conveying that to their target users. At the end of this project ZIRX wanted to have a brand and voice that they could use confidently.
As the scale of the project became clearer. We adjusted the sprint goals and length to allow us to dive deeper into identity research and explore more about how we could make a lasting impact—not just to their website—but their brand as a whole. We'd evidently need more than just a single week to do it all well.
Fortunately our first sprint together had taught us a lot about the company already. Matt paired up with Arnas, who would take on the lead responsibility for the brand look and feel, bringing him up to speed with the brand direction, based on the narrative he had assembled with Sergei and the ZIRX team. Arnas soaked it up like a sponge, switching between pairing sessions, video calls with ZIRX, and his own creative sessions, to identify and begin to solve the key visual problems that had been bugging everyone involved.
Navigating an identity requires a road map
Together, Matt and Arnas joined up with the ZIRX team to define their brand attributes, using visual examples to ensure we were all on the same page. We settled on the descriptive building blocks of the new identity:
Sleek, Approachable, Simple, Safe, Smart, Technical, Effortless.
We used these attributes as a checklist when tackling each major identity component. It was important that any identity description we considered was capable of ticking all of these boxes. And we realised that we could use these as a compass for some of the immediate visual updates that we were looking at, too.
We were then able to prioritise the identity improvements we could make, across the brand and the website. We settled upon:
Logo, Typography, Illustrations, Iconography, Colour Scheme.
As the week unfolded, Arnas carried out identity research and began to explore new brand concepts.
Of all the site updates that we would be making, typography made the most sense to start off with. People often underestimate its power to not only influence user engagement, but also to bring their a brand's personality to the fore. We were confident that we could identify and ship much improved typography within a week, which would have an immediate impact on the site and also provide a big first step in defining the fuller brand identity.
We continued to improve the site
While all this was happening, Sergei made further progress on the site, refactoring code, configuring the server and building out more pages. Working alongside Matt, he iterated on the content structure and copy, significantly upgrading the 'Coverage' page so that the ZIRX team could quickly update their operation times live on the site by editing a shared Google Spreadsheet, rather than diving into the code or setting up a slow and cumbersome backend to the website. By the end of the week, Sergei had pushed these changes live to the site and had also managed to implement the new typography direction that Arnas had been working on.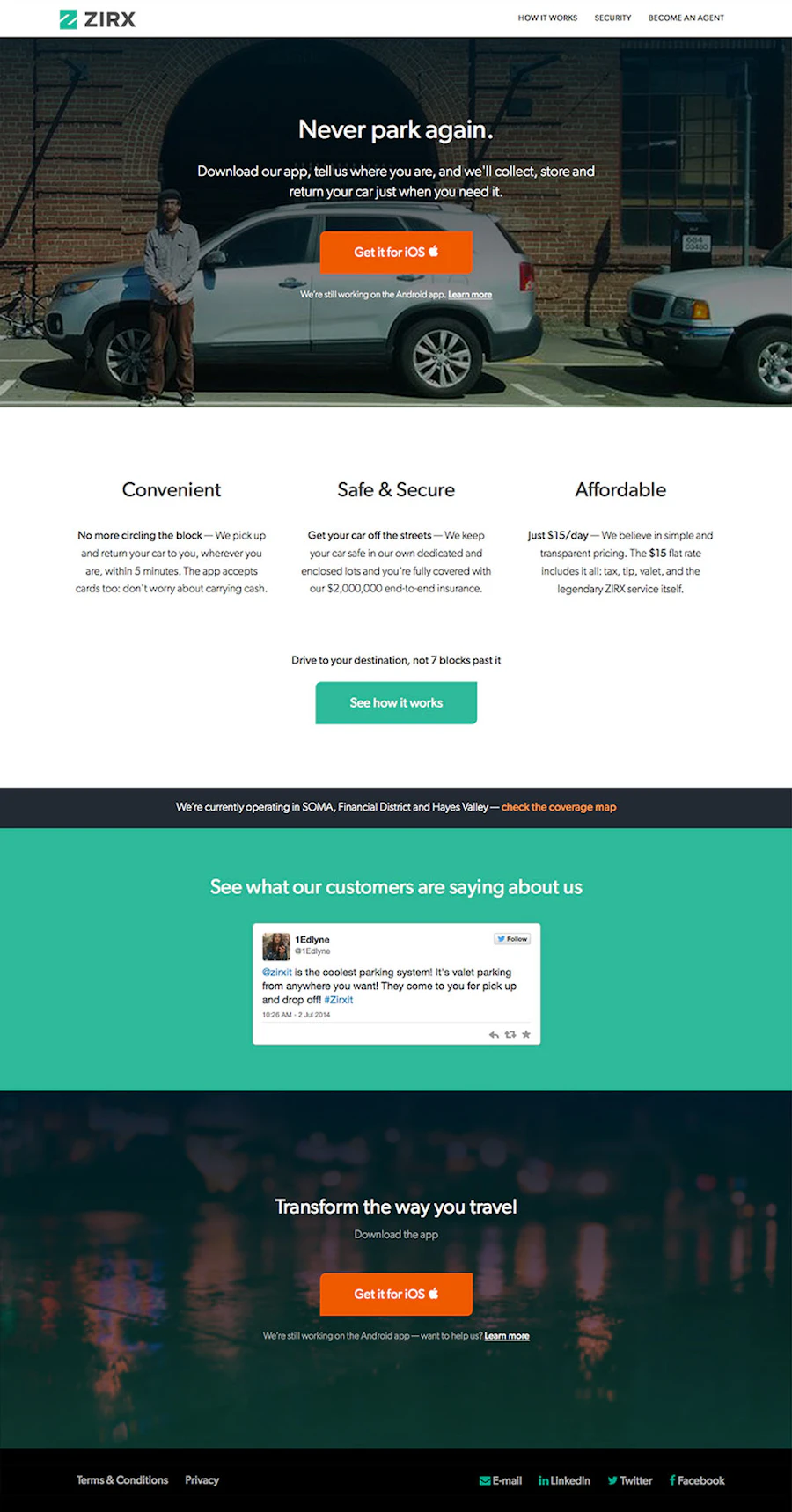 Moving into the third week!
We took the same approach with the third week, ploughing away with visual updates to the site and at the same time, iterating on the brand identity. Arnas focused on the new logo this time around, initially playing it safe with iterations of their original concept, before gradually developing these and exploring ideas with the ZIRX team, until we settled upon a winning direction.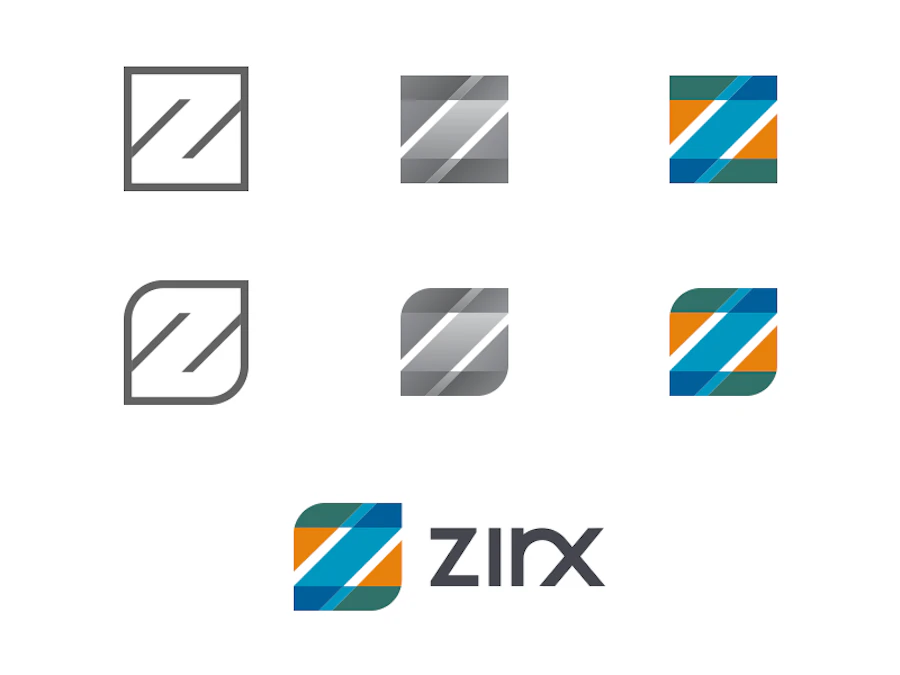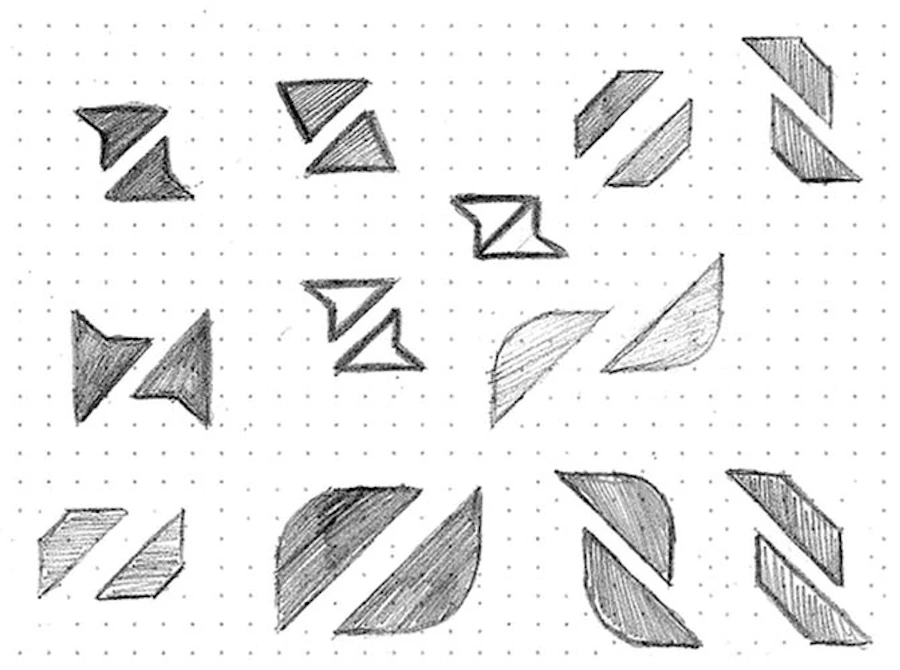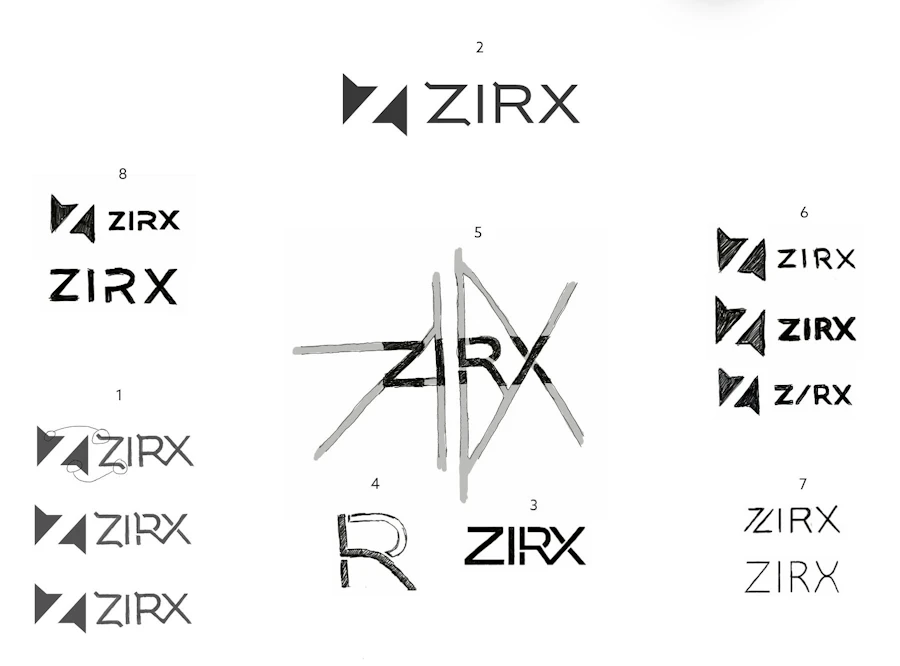 Bringing it all together in the final week
As week four rolled in, we had a clear objective. We'd ship a finalised logo, updated colour scheme, iconography, and illustrations to the site.
Locking down the colour scheme was our top priority. Arnas held video calls with Solana and Israel on the ZIRX team, who were both designers and had built the UI of the original iPhone app. It was critical for the decisions to be made collaboratively. The new brand colour wouldn't just change the website, but would also pour into all parts of their brand, including the look and feel of their flagship product.
Looking back over the brand attributes we'd set out already, we worked together to carefully consider which colours would give ZIRX a distinct identity in a crowded market, and would work across all areas of the brand. A bright, visible yellow soon emerged as the winning brand colour!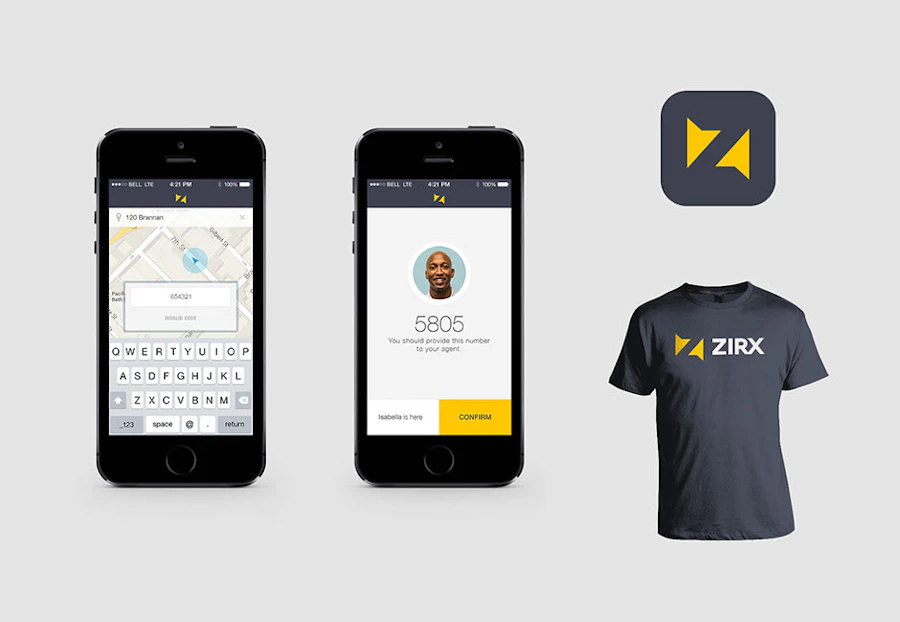 With a confirmed identity concept to work with, Sergei was able to pair with Arnas, using this final concept as a brand tool kit. As Sergei applied the new colours to the site, Arnas created icons and illustrations to supplement it.

Matt also spent time working on the copy on the site further, turning the security page into a digestible check-list, integrating brand messages across different pages, and with Sergei's help, implemented more content changes and structural improvements.
Spilling out into other avenues
Sprinting allowed us to cover a ton of ground and gave us more capacity than we had anticipated. So when Shmulik asked us to help come up with a billboard design to be used in SF, we jumped straight into it. Matt had already been working on brand messaging, exploring how different splash headers would work on the site, and Arnas had developed a really intuitive understanding of the new ZIRX brand and where it was going.

Together they were able to quickly lock down a message and design that would stop traffic (or so we hoped). Positioning it above a car park gave it an ironic twist, and allowed us to have some fun with the messaging.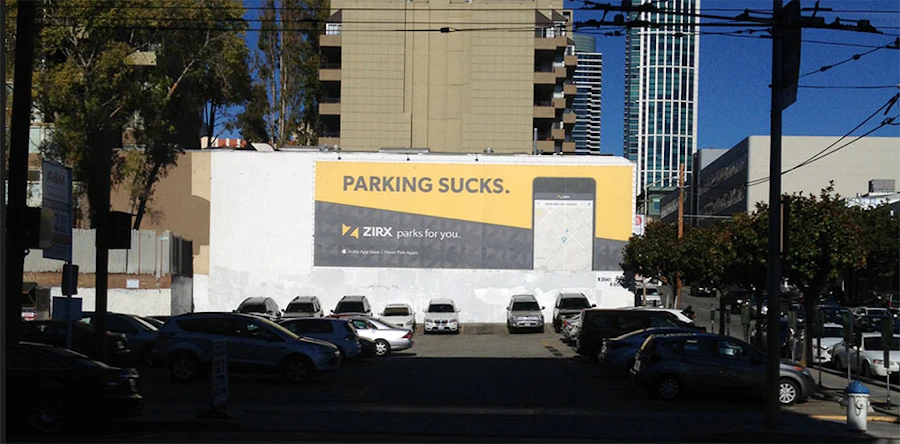 Although we specialise in digital design for websites and web apps and would be unlikely to take this sort of print media project on as a standalone one, it does demonstrate how the lines between 'design for the web' and other content are much more blurred than they seem.
The results
In four weeks, we were able to significantly drive the website forwards, to a point where it was much more persuasive and engaging than when we started out.
Working collaboratively with the ZIRX team helped us to deliver an end‑result that we could all be proud of and emphasised a core principle: your website is your master salesperson. It delivers your core messages. It's at the heart of who you are. It is a digital manifestation of who you are. That process of working to try and communicate everything you stand for in the form of a website truly does help to define who you are as a company. The narrative we created for the website actually goes far beyond the web.
And since our very first sprint…
ZIRX managed to secure at total of $36.4 million in funding, and are now up and running in 6 cities and counting.
We continued to run sprints with the ZIRX team, and our relationship brought great results. The site has continued to grow and evolve.
We designed uniforms, stickers, and even more billboards!
And Matt has even flown out to meet the ZIRX team in person, taking a great collaboration even further beyond Hangouts and IM messages. But that's another story.
Here's where we took the website transformation