Most young people now expect to find services online, including support for their emotional wellbeing.
While face-to-face counselling is a great way to address mental health issues, many people, especially children and young people are unable to access such services.
Kooth is a digital platform for children and young people to get free, safe and anonymous mental health support that's developed by XenZone, a pioneer of online counselling services in the UK. Over the last 20 years, XenZone has been using technology to improve access to mental health services for children, young people and adults.
In this episode of HealthRedesigned, we chat with Elaine Bousfield, Founder and Chair of XenZone.
Pioneering online counselling
. . .
Why did you start XenZone?
In 1999, I was working as a therapist in a young person's mental health charity in Manchester, UK. At the time, we'd noticed that boys and young men didn't access counselling to the same degree as young women did. It got us thinking about why that was and then the Samaritans, a large charity in the UK, did some research with some young men around depression and discovered that they were far more prepared to talk about their issues via email rather than over the phone or face-to-face.
I spoke to my bosses about developing something online, but at the time, there wasn't really much out there in terms of digital services and it was probably too risky for the organisation. So I decided to try and do something myself despite not being a technologist.
I put a paper together, sent it off to somebody who was involved in tech and he thought it was a really good idea. So I set up XenZone.com to see whether online therapy would work for men at the time. In my first year, 35% of all my traffic was from children under the age of 18.
That got me thinking about needing to do something for younger people because of my experience of working with them. I spoke to one of the local primary care trusts, they gave me a little bit of money and I did some research with the youth group and some schools. Young people I spoke to said they would be really delighted to have an online service and that's how Kooth was born.
Giving young people an emotional outlet
. . .
What is Kooth and what does it do?
Kooth is a digital resource for young people. It's an online community and has an active co-produced magazine where young people write articles and share their thoughts and feelings about each of the stories. It's got message forums too. So it's both a community and a content producer but the main authors of the content are the users. Our media team sources a lot of content as well and it's backed up by a very robust mental health team who deliver therapy online.
Young people can talk one to one with psychotherapists, counsellors or mental health workers either using live chat or if they prefer, an internal message system that's got a backend recording system that records case notes and progress of the work.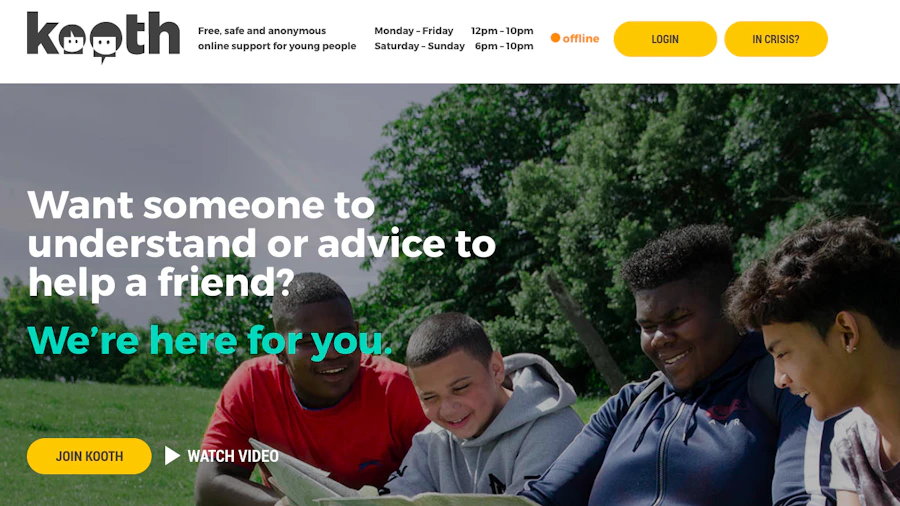 It's a robust online digital mental health service.
Kooth's also a blended offer—we're a digital mental health service but we have links into face-to-face services. When we get commissioned by a clinical commissioning group, an NHS trust or a local authority, one of our first jobs is to build relationships with them so that they not only know about us but we've got pathways into their services and relationships with their colleagues.
For example, if a young person comes to us saying he or she is hearing voices or is experiencing early psychosis, then we can get in touch with GPs or the Early Intervention Psychosis team and have a conversation with them about the person we're working with.
At the same time, we've got a face-to-face team that works in schools or with the local child and adolescent mental health team. So we've actually got face-to-face provision on the ground as well as online. I think that's really helped Kooth's success because we're not just a standalone virtual service, but we're also linked into other services as well.
Can any young person use Kooth? What happens when they join the platform?
To use Kooth, young people just need to feel that something's not right or they're not happy. The only rules of entry are that they live in an area which has been commissioned by the service and their age. We like to go up to age 25, but in many areas, it's 11 to 19. When they come into the system, they first have a live chat with one of our workers or they might send us a message and we might write back to them and assess them.
We use YP Core, a fantastic assessment for working out what levels of distress young people are feeling. It looks at things like self-harm, suicidal ideation and levels of loneliness and depression. We use that to get a benchmark of where the person is when they come into the service. Since we're working with young people, we've got to check for safeguarding issues and that allows us to see the bigger picture of what's happened with that young person. Once we've got that, we can begin talking to the young person about what's made them come to Kooth.
Do they interact anonymously with the counsellors?
They're anonymous at the point of entry, but throughout the assessment, the counsellor talks to the young person about whether staying anonymous is a good idea or not. If a young person talks to us about feeling suicidal or if there's bullying going on in school or if we feel their mental health is declining, the therapist will have a conversation with the young person about the best ways of helping that person and in order to do that, it would be helpful to know who they are.
Usually, young people will tell you who they are and that allows you to contact their school, parents or the GP—so that you can help them in a more active way. That's not to say you can't help young people actively by remaining anonymous because for some young people, that anonymity is what allows them to disclose quite serious stuff that's going on for them. Sometimes the anonymity is what keeps that young person safe.
For example, for a young person who wants to disclose abuse, if they've got a period of a few weeks where they can explore what it means to give up their anonymity and what would happen if they do tell you, it gives the counsellor time to build up the trust with that person, so that when the disclosure is made and the anonymity is broken, the young person is actually much more mentally prepared for that.
Getting investment at the right time
. . .
What was the most challenging part about scaling the service?
Funnily enough at the time, it wasn't so much the technology but the investment into it. We felt we got to the point where Kooth was growing so rapidly and we knew that with the transformation money that came into the NHS, that we could fall over if we didn't get investment in the technology. We needed more developers and needed to think differently about how we were building the system and you can't do that forever on a small programming team. That became a challenge for us as we were growing. That challenge has been met, surpassed even with the infrastructure we've got now around the service.
Another challenge is keeping things simple. People often ask us why we don't do video and the reason for that isn't because of the technology, but because young people don't want it. They like video in terms of content, but in terms of dialogue with a therapist, they prefer to use text instead.
Extending mental health services for adults
. . .
You went on to develop Qwell which is a similar service for adults. Aside from targeting a different age group, how else are the two services different?
Our whole approach to mental health is a holistic, humanistic approach and Qwell sits really well in the recovery and inclusion model of mental health.
In a sense, Qwell is like Kooth, an online community for adults that want to explore their mental health with therapists but also with each other.
One of the features that we're building quite heavily into Qwell is peer-to-peer recovery. Although you've also got access to psychotherapists and counsellors, you've also got access to peers—that's a part of the service that we're currently developing and we can be a lot freer in some ways with adults than we can with young people. There are still safeguarding issues to think about with adults, but not everything has to be. Things have to be moderated but they don't have to be pre-moderated as much with young people.
We're working closely with partners like Mind in some areas and we're looking at housing partners as well to deliver face-to-face services on the ground. Qwell is almost like the digital arm of those face-to-face services. For adults who prefer to get access to support online rather than go face-to-face or would like to use an online service as an add-on to the face-to-face work they're doing, then Qwell's perfect for that. Qwell also doesn't have to be anonymous, so adults are happy to tell us who they are—that's another difference to the Kooth service.
Ultimately, how would you describe XenZone's work and mission?
XenZone's mission has always been to provide the best emotional mental health services to people at the time they need them and when they want them. Our audacious goal is to become almost like when you think of Weight Watchers for losing weight or Google for search, our big wish is that you think of XenZone as the place to go to for your mental health.
Where do you see yourself going from here in terms helping more people with mental health issues?
XenZone is our public sector work. So everything we do in XenZone is completely free to the end user and we work with NHS trusts, CCGs and social care. That's where XenZone sits and we're really committed to having healthcare free at the point of delivery. I think everybody who works in XenZone holds that principle very strongly.
We also recognise that if we want to reach more people we have to do it outside the commissioned areas. We've got a group called MindZone and within MindZone we've got XenZone which is our digital blended work with NHS trusts.
We've also set up a suite of apps under the Minds for Life brand which we're releasing into the market. We plan to release five apps by autumn: a counselling app, a recovery app around sexual abuse, one around grief, one around depression and one around anxiety. These are content rich apps that people can download from the App Store and they're like self-help or self-management tools. But users can also speak to a therapist online as well. That's the consumer brand that we're developing at the moment.
Our dream is to have a suite of apps that people can download really economically to get mental health support through their phone from a team of clinically registered psychotherapists and counsellors. All the content's been written by clinicians and lots of clinicians within the XenZone team have helped produced the content for those as well.